YEAR'S BEST ZINFANDEL
94 | Dashe 2018 Dry Creek Valley Florence Vineyard Zinfandel $42
90 | Dashe 2018 Alexander Valley Old Vines Todd Brothers Ranch Zinfandel $42
93 | Dashe 2018 Eagle Peak Les Enfants Terribles Heart Arrow Ranch Zinfandel $32
News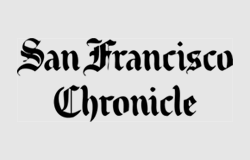 TOP 25 WINERIES TO VISIT
BY ESTHER MOBLEY
Going wine tasting is one of the great Bay Area pastimes. Visiting a winery here is a chance to experience so many of the features that make this region special: the land's natural beauty, a rich tradition of artisanal craftsmanship and a deep, abiding love for eating and drinking deliciously.
Best of all, world-class wines are now made in all corners of the Bay Area — not just in the famous appellations of Napa and Sonoma counties, but also on mountains overlooking Silicon Valley and in former military bases in the East Bay. Today's Wine Country consists not only of palatial estates overlooking vineyards but also sleek tasting bars in downtown squares, industrial warehouses and, increasingly, sidewalks and parking lots, as urban wineries adapt to the needs of the COVID-19 era.
---
A Zinfandel specialist with a light touch located in a former Alameda airplane hangar.
The specialty at Dashe Cellars is Zinfandel — but these balanced, bright, often single-vineyard wines fly in the face of any stereotypes of California Zin as jammy and boozy. The winery relocated in 2019 from Oakland to the area of the former Alameda Naval Air Station known as Spirits Alley, where a cluster of exciting wineries, distilleries and breweries has emerged. Dashe's setup is well suited to COVID safety: There's ample space outside of its warehouse winery at the southern edge of Alameda island, adjacent to a bird sanctuary and in prime view of the San Francisco skyline. Apart from the Zinfandels, make sure to try some of the wines under Dashe's Les Enfants Terribles label, a collection of crunchy, red-fruited, lightly extracted reds. The winery doesn't serve food, but food trucks come to the patio on Saturdays and Sundays.
Load More...
Archived News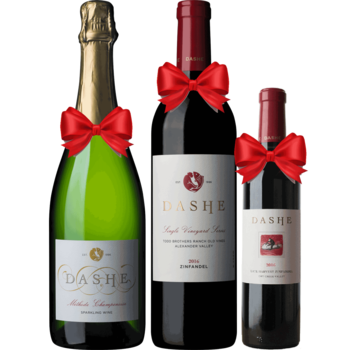 Click Here to Explore our Holiday Gift Shop
Give a gift that will make a lasting impression! Dashe Cellars is helping to make your holiday shopping fast and easy. Beautiful gift boxes; superb pre-selected wine sets…..and this year we're offering
Complimentary Ground Shipping
AND
Complimentary Black Satin Finish Gift Packaging
on all sets in our Holiday Shop.
At Dashe Cellars the health and safety of our guests and employees is of the utmost importance. In light of the rapidly evolving situation with COVID-19, we are temporarily closing our tasting room doors.
During this closure, we are offering our customers $10 flat-rate UPS Next-Day-Air now that our Warm Weather Shipping is in Effect, coupon code
SUMMERSHIP
. No one should have to go without creature comforts when hunkering down.
Click Here
to place your order in our online store or call (510) 452-1800 x4 and Stephanie can help. You are also welcome to drop by the winery Friday and Saturday from 1-4:00 to pick-up wine or schedule a $0 At-Home-Delivery, simply select "Pick-up" or "At-Home-Delivery" at checkout.
We will continue to monitor and work with guidelines from health authorities, and will evolve our policies accordingly.
Thank you for continuing to support local businesses—in this difficult time we all need to help mitigate the effects of closures, etc. so that we have products and restaurants to return to when this is all over. We are all in this together! Stay safe.
Load More...