News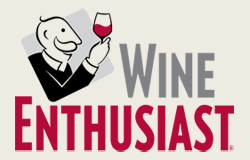 10 OF OUR FAVORITE NORTHERN CALIFORNIA WINES FOR LESS THAN $30
BY JIM GORDON
When shopping for the great wines of the world, you can learn a lot about a wine's potential for high quality from the appellation on the bottle. The same is true when looking for great values. Certain Northern California regions, often designated as American Viticultural Areas (AVAs) on the bottle, provide important clues for value-minded shoppers.
In general, the smaller the region the more likely the wine will be higher quality. The corollary is that the widest appellations often produce the simplest wines, which is the case for hundreds of Golden State wines labeled as California AVA. It means they could have been made from grapes grown anywhere in the state, often selected largely for their low cost, which is a good proxy for quality.
---
Dashe Cellars 2019 Les Enfant Terrible Concrete Cuvée Chenin Blanc (Clarksburg); $24, 90 points.
This attractive, technically light-bodied wine fermented in a concrete egg is rich in ripe fruit flavors and has a mouthcoating texture, but stays nicely balanced thanks to underlying acidity.
Load More...
Archived News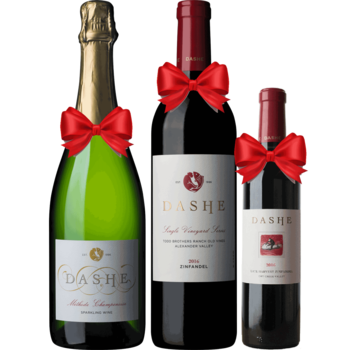 Click Here to Explore our Holiday Gift Shop
Give a gift that will make a lasting impression! Dashe Cellars is helping to make your holiday shopping fast and easy. Beautiful gift boxes; superb pre-selected wine sets…..and this year we're offering
Complimentary Ground Shipping
AND
Complimentary Black Satin Finish Gift Packaging
on all sets in our Holiday Shop.
At Dashe Cellars the health and safety of our guests and employees is of the utmost importance. In light of the rapidly evolving situation with COVID-19, we are temporarily closing our tasting room doors.
During this closure, we are offering our customers $10 flat-rate UPS Next-Day-Air now that our Warm Weather Shipping is in Effect, coupon code
SUMMERSHIP
. No one should have to go without creature comforts when hunkering down.
Click Here
to place your order in our online store or call (510) 452-1800 x4 and Stephanie can help. You are also welcome to drop by the winery Friday and Saturday from 1-4:00 to pick-up wine or schedule a $0 At-Home-Delivery, simply select "Pick-up" or "At-Home-Delivery" at checkout.
We will continue to monitor and work with guidelines from health authorities, and will evolve our policies accordingly.
Thank you for continuing to support local businesses—in this difficult time we all need to help mitigate the effects of closures, etc. so that we have products and restaurants to return to when this is all over. We are all in this together! Stay safe.
Load More...