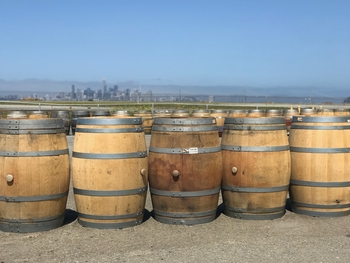 Stop by our new location! Starting on July 18th, we'll be open Thursday-Sunday from 1:00-7:00.
Grab some friends and join us for a flight of wines in our unique, urban tasting room located in a historic airplane hangar on Alameda Point. Inside, you'll try some world-class wines — without the long trip up to wine country — served by our knowledgeable and welcoming staff while having an opportunity to see the winemaking process in action! Our tasting room is located among barrels, right in the middle of our winemaking area. Once you step inside our urban winery, you'll be wrapped in the sweet smell of wine aging in barrels and be amazed by the rows of oak barrels and tanks that surround you. Enjoy a glass of wine outside, where you'll have an amazing view of the San Francisco bay complete with passing sailboats and the city skyline. We welcome walk-ins, or click the link below to make a reservation.
Whether this is your first or 50th wine tasting, we are committed to giving you a warm and informative experience in the heart of Urban Wine Country!
Finding us can be a bit of a challenge the first time. As you approach building 25 from Monarch St., our entrance is on the far right (or west) side of the building. Enter through our gate and proceed to back of the building. On the back of the building is an opening into the cellar, that's us! If your navigation app drops you at the gate next to the old tower building, just proceed though the gate and drive diagonally to the right. It can be tricky to find at first, but your visit will be well worth it!
News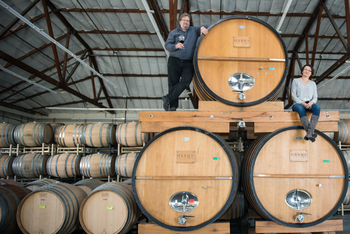 INTERVIEW WITH MIKE AND ANNE DASHE
The first wine that you made as husband and wife under the Dashe Cellars name was a 1996 Zinfandel from the Dry Creek Valley. What made you decide to make this varietal your specialty?
We were amazed at the wide range of types of wines that you could make with zinfandel. We saw that Zinfandel was a world class varietal that you could make in many different styles and we loved the Dry Creek Valley AVA in particular because of the great balance and complexity of the wines. Mike had worked with Zinfandel from Dry Creek Valley extensively during his time at Ridge Vineyards and really felt that this area produced the highest quality zinfandel in California.
The interest in Zinfandel seems to be growing. Why do you think that is?
There has been a resurgence of Zinfandel that is made in a less ripe, less extracted manner and more balanced and complex. There especially seems to be a crop of young, new winemakers that seems to have sparked a renewed interest in the varietal. As Winemakers that were part of the original modern Zinfandel movement, we are thrilled to see growing interest in this varietal.
What do you wish other people knew about Zinfandel?
We would like for more wine lovers to see that Zinfandel can really be a world class grape varietal and that it can stand alongside any noble grape varietal in the world. When Zin is made correctly, it can be exceedingly high in quality with layers of flavors, vastly interesting, age worthy, and overall a spectacular varietal that makes elegant wines. Also, Zinfandel in particular is a varietal that pairs well with an enormous variety of foods, from fine dining to backyard BBQs.
Dry Creek Valley AVA is famous for producing award-winning Zinfandels, what do you think makes this area specifically well suited to this varietal?
The terroir of Dry Creek Valley in general is perfectly suited for growing Zinfandel grapes. Specifically, the weather patterns in the valley. Dry Creek Valley gets quite hot during the day and cools down precipitously at night; there is a fog that comes in at night and in early morning that keeps the acidity intact in the grapes. The resulting wines have a great balance between the fruit flavors, the minerality and the crisp acidity.
Load More...
Archived News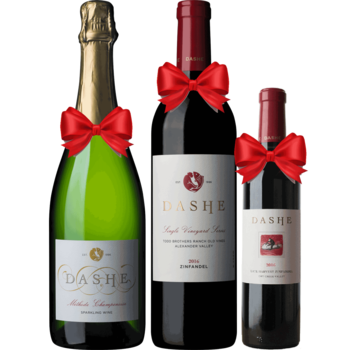 Click Here to Explore our Holiday Gift Shop
Give a gift that will make a lasting impression! Dashe Cellars is helping to make your holiday shopping fast and easy. Beautiful gift boxes; superb pre-selected wine sets…..and this year we're offering
Complimentary Ground Shipping
AND
Complimentary Black Satin Finish Gift Packaging
on all sets in our Holiday Shop.
Load More...