Upcoming Events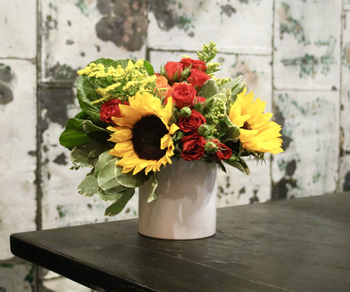 Decorate your Thanksgiving Table at Dashe Cellars
Come us join us at Dashe Cellars' new location at Alameda Point's Spirits Alley for a fun afternoon of flower arranging! Bring your friends and family to learn tips and tricks of flower arrangements and take home your personally crafted arrangement at the end of the class. Come early to taste delicious wine and grab a bite to eat before the class or stay after and do a tasting (available for purchase). See you there!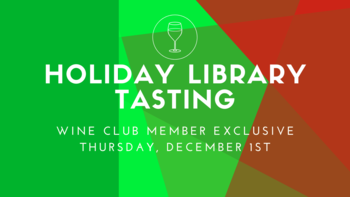 Wine Club Member Exclusive
What are the holidays for, if not for sharing amazing wines with friends? We'll rummage in the far reaches of dusty cellar stacks to find incredible library vintages of your favorite Dashe wines. Just wait and see what jewels we come up with!
DATE: Thursday, December 12th
TIME: 6:30-8:30PM
COST: $35 per ticket
LIMIT: 4 tickets per membership - space is extremely limited

Questions or special requests?
Email Stephanie at stephanie@dashecellars.com or call her at the winery, (510)452-1800.
Not a Wine Club Member? Click Here for more information on membership or call/email Stephanie at stephanie@dashecellars.com, (510) 452-1800.
Archived Events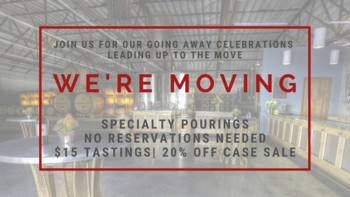 We'll be doing several specialty pourings leading up to our move to Alameda. There are no tickets needed and the specialty pourings are included with existing complimentary member tastings. Stop by for something a little different!
No Reservation Needed | $15 tastings | 20% off Case Sale
---
Spring Release and Wine Garden Opening Weekend
DATE: Thursday-Sunday, April 18th-21st
Join us this weekend to taste our Spring Releases and sneak previews of wines not yet available. Plus we're celebrating spring with the opening of our Outdoor Wine Garden! It will be open on the weekends from April 20th-May 12th.
Rosé Release Weekend
DATE: Thursday-Sunday, April 25th-28th
It's time for the release of our 2018 Dry Rosé of Barbera! Stop by this weekend for a taste and to enjoy a glass in our outdoor Wine Garden.
Zinfandel, Zinfandel, and more Zinfandel
DATE: Thursday-Sunday, May 2nd-5th
All weekend we will be pouring Zinfandels from our Les Enfant Terribles line, our Single Vineyard Series, and the original Dry Creek Valley Zinfandel that put Dashe Cellars on the map.
Going Away Party
DATE: Saturday, May 11th
Mike and Anne will be throwing the last party in our Oakland Cellar. Rather than our normal tasting menu, we'll be serving up wines by the glass at special pricing. We'll be going deep into the cellar to bring out library wines, current releases, pre-release wines, and special bottles that are normally hidden away. We'll have live music by Eric Eckstein and Canasta Kitchen will be set up outside of the Wine Garden selling food. We hope you will join us as we'll be reminiscing on 15 years here in the Jack London Square neighborhood. This event is fido and family-friendly and a casual meet and greet, come for great wine and great company!
No Reservation Needed | Specials on Glasses of Wine | Case Sale | Family-Friendly | Complimentary Admission
Click Here for more information
Last day in Oakland
DATE: Sunday, May 12th
First Dashe Cellars Pop-up in Alameda
DATE: Saturday, May 18th
Load More...