Upcoming Events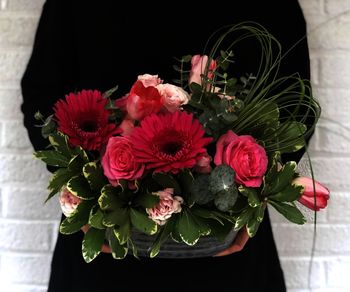 Hearts are in Bloom to celebrate "Gal"-entine's at Dashe Cellars
Grab your Galentine's and unleash your inner DIY maven. Join us at Dashe Cellars. Sip on wine (available for purchase) while you learn the art of floral arranging with Valentine's inspired blooms. At the end of the evening, take home your gorgeous floral centerpiece and new floral tips and tricks!
DATE: Sunday, February 9th
TIME: 4:00PM
COST: $65
YOUR HOST: Lauren Chabot with Alice's Table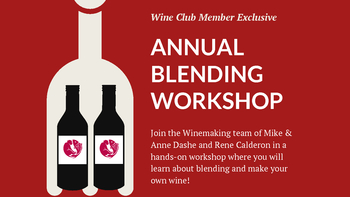 Wine Club Member Exclusive
Join Michael and Anne Dashe, as well as Winemaker René Calderon, as they teach you the art of blending and treat you to lunch! First, you will learn about the various components of wine and gain hands-on knowledge of oak-influence, aroma, taste, and balance. We will explore different component wines from recent vintages, and discover the intricacies of each varietal, vineyard block, barrel flavors, and how they blend together and build on each other. Then, the fun really begins! We will provide you with the base component wines and it will be up to you to make your own cuvée. After you have created—and named!—your own signature blend, you will be treated to a gourmet lunch in the cellar.
This is a hands-on workshop that is open to all skill-sets, the only requirement is a love of wine!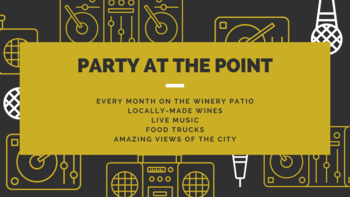 Join us for a party every month for wines by the glass, live music by local artists, and local food trucks.
DATE: Saturday, March 21st
TIME:
Winery open 1-7:00PM
Live music 2:30-5:30PM
Food Truck TBD
COST: Admission is Complimentary, wine & food available for purchase
MUSICIAN: Curt Yagi & The People Standing Behind Me
Oakland based singer songwriter Curt Yagi has been on a tear through the Bay Area music scene. The 2008 Best of the Bay Singer Songwriter (SF Bay Guardian) and RAW San Francisco Musician of the Year had his song "Sweep Me" included on the very popular KFOG Local Scene 8 CD in the Bay Area. His songs are delivered in an inimitable and endearingly charismatic persona the SFBG describes as the swagger of Lenny Kravitz and the lyrical prowess of Jack Johnson, and The San Francisco Chronicle called Yagi a talented songwriter who sings -- like Kenny Loggins.
Best of all, Ben Fong-Torres, former Senior Editor, Rolling Stone had this to say, "People keep comparing him to other artists, but I think he just sounds like Curt Yagi, and that is plenty good enough. This is one excellent singer and songwriter."
Click Here for a preview of the band.
Free admission - Kid Friendly - Dog Friendly
Archived Events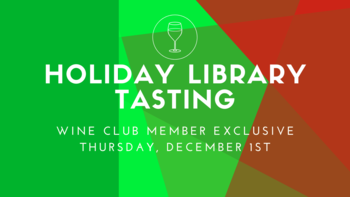 Wine Club Member Exclusive
What are the holidays for, if not for sharing amazing wines with friends? We'll rummage in the far reaches of dusty cellar stacks to find incredible library vintages of your favorite Dashe wines. Just wait and see what jewels we come up with!
DATE: Thursday, December 12th
TIME: 6:30-8:30PM
COST: $35 per ticket
LIMIT: 4 tickets per membership - space is extremely limited

Questions or special requests?
Email Stephanie at stephanie@dashecellars.com or call her at the winery, (510)452-1800.
Not a Wine Club Member? Click Here for more information on membership or call/email Stephanie at stephanie@dashecellars.com, (510) 452-1800.
Load More...