News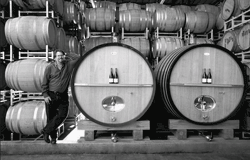 Thank you to sommelier and friend of the winery, Mark Ellenbogen, for finding this SF Chronicle article from 2008 in the archives!
If you would like to taste a wine from our "Les Enfants Terribles" line, Click Here to visit our online store and pick up a bottle!
VINTNERS SAY LOW SULFER CAN RESULT IN PURER FLAVORS
BY WOLFGANG WEBER
PHOTO BY CRAIG LEE/THE CHRONICLE
Contemporary attitudes toward the use of SO2 are changing, most notably in Europe, but also increasingly in the United States. Indeed, working with little to almost zero SO2 is one of the rallying points of the natural wine movement, a blanket term used to describe wines made according to a philosophy of minimal intervention in the vineyard and cellar.
In recent years in both France and Italy, winemakers such as Marcel Lapierre in Morgon and Stanislao Radikon in Friuli have pushed the envelope on SO2 use, simultaneously embracing a traditional approach — no additions of sulfur — while at the same time eagerly cultivating the market for such wines in Europe and the United States with a modernist fervor. As with organics and biodynamics before it, wine made without SO2 may be the next trend in the current green craze.
Load More...