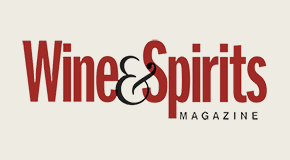 YEAR'S BEST ZINFANDEL
94 | Dashe 2018 Dry Creek Valley Florence Vineyard Zinfandel $42
90 | Dashe 2018 Alexander Valley Old Vines Todd Brothers Ranch Zinfandel $42
93 | Dashe 2018 Eagle Peak Les Enfants Terribles Heart Arrow Ranch Zinfandel $32
News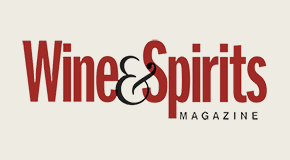 WHOLE-BERRY, HAPPY ZIN
BY JOSHUA GREEN
2018 Zinfandel, Heart Arrow Ranch 'Les Enfants Terribles'
Mike Dashe lists this wine among the "light reds" in his production and, at 13.5 percent alcohol, it is significantly lighter than most contemporary zins. Its strength is in the evocation of a place. It grows in Redwood Valley, part of the Eagle Peak AVA established in 2014. Golden Vineyards owns the 1,000-acre ranch, where it limits the vineyard parcels to 60 acres, the farming certified biodynamic. Dashe ferments the wine as whole berries with some whole clusters and without added yeasts, then ages it in a 900-gallon French oak barrel, bottling with limited sulfur. It tastes as if the yeasts have consumed only enough of the whole berries that the structure and shape of the grape is still intact, allowing light to shine through the skin. Those skins hold bright tannins, thriving with energy, providing thorns to the rose scents and iron to the dark plum and pomegranate flavors. A bottle will go fast as it's a wine to make you smile. (373 cases)
Load More...
Archived News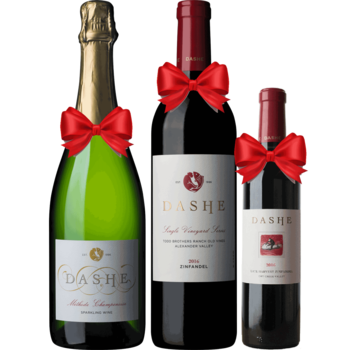 Click Here to Explore our Holiday Gift Shop
Give a gift that will make a lasting impression! Dashe Cellars is helping to make your holiday shopping fast and easy. Beautiful gift boxes; superb pre-selected wine sets…..and this year we're offering
Complimentary Ground Shipping
AND
Complimentary Black Satin Finish Gift Packaging
on all sets in our Holiday Shop.
At Dashe Cellars the health and safety of our guests and employees is of the utmost importance. In light of the rapidly evolving situation with COVID-19, we are temporarily closing our tasting room doors.
During this closure, we are offering our customers $10 flat-rate UPS Next-Day-Air now that our Warm Weather Shipping is in Effect, coupon code
SUMMERSHIP
. No one should have to go without creature comforts when hunkering down.
Click Here
to place your order in our online store or call (510) 452-1800 x4 and Stephanie can help. You are also welcome to drop by the winery Friday and Saturday from 1-4:00 to pick-up wine or schedule a $0 At-Home-Delivery, simply select "Pick-up" or "At-Home-Delivery" at checkout.
We will continue to monitor and work with guidelines from health authorities, and will evolve our policies accordingly.
Thank you for continuing to support local businesses—in this difficult time we all need to help mitigate the effects of closures, etc. so that we have products and restaurants to return to when this is all over. We are all in this together! Stay safe.
Load More...