Dashe(ing) into National Zinfandel Day
BY MELANIE OFENLOCH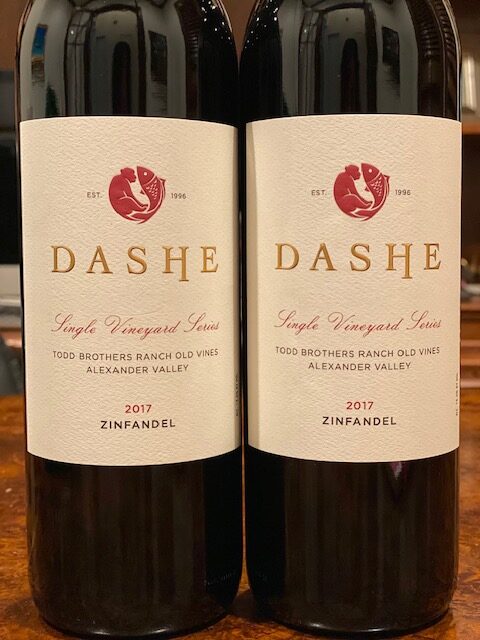 A monkey and a fish grace the logo of Dashe Cellars and it is a wine that my husband and I have enjoyed for years. While the logo has evolved, the sentiment remains. It's a story of adventure, romance and wine illustrating "two creatures going on a journey" – a story of love and wine. A story of a newly married couple with one coming from a fishing village and one coming from Tarzana, CA, which inspired an artist to create the label.
When the bottle arrived for National Zinfandel Day, a day dedicated to celebrating all things zinfandel which is celebrated on November 17, I was excited to revisit a special bottle of this wine.
History of Zinfandel
Zinfandel is noted as one of the oldest grape varietals. While it has been mentioned as coming from Italy and Austria, Zinfandel has its own clear identity. In 2001, nine vines of "Crljenak Kaštelanski" were discovered in Croatia that had the same DNA structure as California Zinfandel.
In 1820, George Gibbs, a nursery owner, brought cuttings from Vienna to New York. It was grown mostly in greenhouse settings until Frederick Macondray brought Zinfandel vines to California. It survived phylloxera and unfortunately evolved into the experiment known as white zinfandel. This started a trend that led to the preservation of old Zinfandel vines.
The rest is a well-documented story and a movement dedicated to advancing the appreciation of Zinfandel wine and preserving its history.
The History: Dashe Cellars
Dashe Cellars is a family-owned artisan winery located in the old Naval Airbase in Alameda, CA that was established in 1996. Known as an urban winery, it was founded by Michael and Anne Dashe, who were newly married and believed that people shouldn't have to travel to wine country to taste exceptional wines.
They are committed to creating wines that reflect soil, climate and vineyard characteristics.  They focus on single-vineyard wines with a traditional, non-industrial approach to winemaking using small-lot fermentation, indigenous yeasts, and little or no fining or filtration.
The Wine: 2017 Dashe Cellars Todd Brothers Ranch Old Vines Zinfandel
The wine is 98 percent Zinfandel with 2 percent Petite Sirah and is aged for 18 months.  It's clear this is an Old Vine Zinfandel with vines planted back in 1958. It has so much depth with notes of blackberry, cherry, herbs, earth, cocoa, raspberry, chocolate and licorice.
On this day celebrating Zinfandel, I encourage you to grab a glass and toast to a grape that has found a clear identity – one that builds on flavor, character and history.
Click Here for original article
---
About Dallas Wine Chick
My name is Melanie Ofenloch and I have a philosophy – no wine snobs allowed. While my profession is marketing communications, my passion is drinking wine. I don't consider myself a wine expert – just an everyday person with a love for the grape, a few annual Pilgrimages to wine regions and at the end of each year with an ugly Visa summary to prove it.