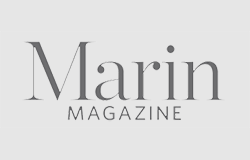 A Day Out at Alameda's Spirits Alley
BY CASEY GILLESPIE
Spirits Alley, a collection of craft breweries, wine tasting rooms and artisan distilleries, is situated in what used to be Alameda Naval Air Station. The industrial airplane hangars, dry goods warehouses and massive parking lots sit on the edge of the island and make for an exciting and historical setting with incredible views of San Francisco and the bay, an ideal place to while away a sunny spring afternoon with friends new and old. Enjoy the local offerings alongside an array of food and dining options, including the collection of food trucks that park in close proximity and serve tasty eats all day. Skip the drive and catch the ferry to the San Francisco Ferry Building, then head to Gate E and a 20-minute ride later you'll arrive at Alameda Main Street Terminal: Spirits Alley is a short walk or bike ride from there.
Admiral Maltings + The Rake
651A West Tower Avenue
This producer prides itself on using the age-old art of traditional floor malting, turning sustainable California-grown grain into quality malt favored by a long list of local brewers. Grab a pint at The Rake, the pub located inside Admiral Maltings, alongside its casual, chef-driven food and enjoy sunshine in the outdoor beer garden.
Almanac Beer Co.
651 West Tower Avenue
While you'll love this brewery's dedication to making bold, sustainably sourced beers, you'll be wowed by the impressive airplane hangar location with 37-foot ceilings, exposed redwood beams and countless oak barrels and massive foudres. Enjoy a cold one in the beer garden or try out the new web store and have Almanac delivered directly to your door.
Dashe Cellars
1951 Monarch Street, Hangar 25
This urban winery was founded in 1996 by husband-and-wife team Michael and Anne Dashe. They introduced their first vintage of Dry Creek Zinfandel the same year and haven't looked back since. Book a table on their outdoor patio Friday through Sunday and take in the stunning views of San Francisco.
 
Faction Brewing
2501 Monarch Street
Craft beer connoisseurs will be spoiled for choice at this brewery with an impressive city view. The selection includes lagers, stouts, Belgian-style and barrel-aged beers and sours alongside the hoppier pale ales and IPAs Faction is known for. You won't want to miss the murals that adorn the brewery's walls; they are almost as interesting as the brews.
Hangar 1 Vodka
2505 Monarch Street
Learn all about the distillation process and botanicals sourced from local farmers when you book a tour that culminates in not only a tasting, but also a better understanding of the love that goes into the making of small-batch spirits. A great way to start or finish a day in Spirits Alley.
Rock Wall Wine Company
2301 Monarch Street
A nod to its location's history, the winery is named after the defensive wall built around San Francisco Bay to protect the base from Japanese torpedoes during World War II. Shauna Rosenblum, a second-generation winemaker (her father Kent, "the King of Zin," founded Rosenblum Cellars), has turned the process into an art form, with many wines from the collection garnering 90-plus points from critics.
St. George Spirits
2601 Monarch Street
Offering a remarkable range of spirts — think gins, vodkas, single-malt whiskeys, absinthe, brandies, liqueurs — this distillery has been creating artisan spirits since 1982 (the company sold its Hangar 1 vodka brand in 2010). The 65,000-square-foot space provides an up-close look at the lab and distillation process, and a chance to really see what goes into making your favorite spirits.
Urban Legend Cellars
1951 Monarch Street, Building 25
For the wine lover who prefers having a choice of bottlings, this spot serves a diverse selection of Alameda-made whites, reds, rosés and dessert wines at wallet-friendly prices. Enjoy complimentary corkage for consumption on site and don't miss the food truck stationed nearby that has partnered with the winery. 
*With Covid restrictions constantly fluctuating, please refer to the individual opening times and offerings on companies' websites as well as current California Covid-19 rules.
Click Here for original article