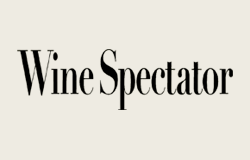 13 Diverse Sonoma Values for $40 or Less
BY AARON ROMANO
Hundreds of wineries and thousands of grapegrowers farm more than 60,000 acres of vines in California's Sonoma County. From Pinot Noir in Sonoma's coastal ridges to Zinfandel and Merlot along its valleys and riverbeds, more than 60 grape varieties thrive in the region's many microclimates. This week we've selected a baker's dozen of new reviews that show off this regional wine diversity. And to top it off, the wines below are easy on the pocketbook, all priced less than $40.
The French term "Montagne Russe" translates literally to "Russian mountains" in English, but in French the phrase means "roller coaster." Owner-winemaker Kevin Bersofsky designed roller coasters while studying mechanical engineering at Conrell University. He eventually pivoted to winemaking, beginning in a St. Helena garage in 2006. Today, his small brand focuses on cool-climate sites, and his 2018 Sonoma Coast bottling taps seven vineyards for a nuanced and cedary version with fresh acidity. Fellow Cornell alumnus Sean Capiaux established his namesake brand in 1994, and drew from Greek mythology when he named his Chimera bottling. This wine's first vintage came with a 2001 blend of grapes from three vineyards, and today Capiaux makes the wine from six Pinot Noir sites, resulting in a juicy, spicy red. Pinot fans can also look to an impressive, coastal value from Vinum, which is loaded with roast beef and cooking spice accents at $19.
But if you're interested in exploring some of Sonoma's alternative grapes, there's the generous and plump Barbera from Seghesio, one of the region's oldest families. Founder Edoardo Seghesio planted the estate's first vineyards in 1895, and the Seghesio Home Ranch in Alexander Valley currently encompasses 130 acres, including a block dedicated to proprietary Barbera clones. But Barbera isn't the only alternative grape in Sonoma. In Alexander Valley, Broc Cellars makes its old-vine blend, which is anchored by 130-year-old Carignan vines. It delivers complex and harmonious flavors like wild berries and herbs.
---
DASHE
Zinfandel Dry Creek Valley Reserve 2017
Score: 91 | $36
WS review: Precise, with a sinewy elegance that draws in bright cherry and cranberry flavors laced with notes of briar, dill and white pepper. Drink now through 2027. 1,526 cases made.—Tim Fish
MONTAGNE RUSSE
Pinot Noir Sonoma Coast 2018
Score: 91 | $32
WS review: Features plenty of cedary notes amid red currant and dried berry flavors, backed by fresh acidity. The spicy finish offers hot stone and slate accents. Drink now through 2024. 350 cases made.—Kim Marcus
 
BROC CELLARS
Old Vine Alexander Valley 2017
Score: 90 | $30
WS review: Complex, smooth and juicy, offering wild berry flavors that show touches of blood orange, fresh herb and marzipan, with notes of clove, sage and candied cherry. Finishes with plenty of harmony. Carignan, Alicante Bouschet, Zinfandel and Palomino. Drink now. 405 cases made.—MaryAnn Worobiec
 
GOLDSCHMIDT
Fidelity Nick Goldschmidt Alexander Valley 2018
Score: 90 | $18
WS review: Black currant, dried raspberry and chocolate mocha flavors are flanked by dried green herbal notes. Truffle and allspice accents show on the finish. Merlot, Cabernet Sauvignon and Petit Verdot. Drink now through 2024. 2,500 cases made.—K.M.
  
PRESTON
Petite Sirah Dry Creek Valley 2017
Score: 90 | $38
WS review: And old-school style that's just rustic enough without taking away from the deeply flavored notes of blueberry and currant, baking spice, licorice and smoked pepper. Drink now through 2027. 574 cases made.—T.F.
BARTHOLOMEW ESTATE
Zinfandel Sonoma Valley 2018
Score: 89 | $35
WS review: A racy Zin, with medium-bodied cherry, anise and pepper flavors that linger on a zesty accent. Drink now through 2025. 355 cases made.—T.F.
  
CAPIAUX
Pinot Noir Russian River Valley Chimera 2018
Score: 89 | $30
WS review: Featuring juicy richness to the red currant and dried raspberry flavors, this red turns minerally midpalate, with a well-spiced finish filled with creamy accents. Drink now through 2023. 1,200 cases made.—K.M.
  
ST. FRANCIS
Claret Sonoma County 2017
Score: 89 | $22
WS review: Crisp, with savory richness to the dark currant, plum and olive flavors. Cocoa powder notes midpalate lead to a finish filled with mineral and mocha accents. Merlot, Malbec and Cabernet Sauvignon. Drink now through 2023. 4,200 cases made.—K.M.
 
LA CREMA
Pinot Noir Sonoma Coast 2018
Score: 88 | $25
WS review: There's a taut minerality to the dried cherry and savory spice flavors, which are fresh and direct. Leafy accents appear on the finish. Drink now. 100,000 cases made.—K.M.
  
SEGHESIO
Barbera Alexander Valley 2017
Score: 88 | $38
WS review: Blackberry, blueberry and plum notes are generous and plump, with black tea, spice, vanilla and date bread details, showing a touch of roasted herb on the finish. Drink now. 1,384 cases made.—M.W.
 
VINUM
Pinot Noir Sonoma Coast The Insider 2018
Score: 88 | $19
WS review: Dried dark currant and plum flavors are loaded with accents of roast beef and spice. The fleshy finish lingers with sanguine and cooking spice accents. Drink now. 500 cases made.—K.M.
  
BEAR FLAG
Cabernet Sauvignon Sonoma County 2017
Score: 87 | $30
WS review: Direct, offering a mix of loganberry and cherry fruit entwined with licorice and toasted vanilla flavors, leading to a light bramble note on the finish. Drink now through 2021. 10,650 cases made.—James Molesworth
  
TOAD HOLLOW
Merlot Sonoma County Richard McDowell's Selection 2017
Score: 87 | $16
WS review: This is redolent of blueberry pastry, with plenty of raspberry jam notes. The spicy finish offers milk chocolate and creamy accents. Drink now. 5,700 cases made.—K.M.
Tasting Reports Red Wines Values Cabernet Sauvignon Merlot Pinot Noir Zinfandel California Sonoma United States Russian River Valley
Click Here for original article