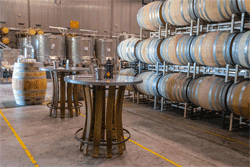 VISITING DASHE CELLARS IN ALAMEDA
Alameda is becoming a wonderful place for winetasting! Monarch Street can be host to an entire day of tasting. On this fine summer day, we visited Dashe Cellars in their new location.
After wonderful tasting at Urban Legend Cellars, we stepped next door (literally, they share a wall) to Dashe Cellars. We were immediately greeted by wine guide Jiliane who set us up for our tasting at one of the numerous high-top tables set along the tasting bar and barrel stacks. Her enthusiasm was so infectious; we were having fun before the first wine reached our glass!
The Dashe tasting area was such a great environment for winetasting! We were standing at a table made from barrel staves, surrounded by wine barrels of every size, with tall stainless steel wine tanks off in the distance. Wine and winemaking, everywhere we looked. This just might be what heaven looks like for wine lovers.
Jiliane gently reminded us that we were there for more than just looking around and poured our first taste of wine, their 2018 Chenin Blanc. We were instantly transported back to France! The lovely floral and citrus flavors dancing over a base of gentle minerality made friends all around. Jiliane told us that this wine was aged in their 3,000 pound concrete egg, which may have contributed that nice slate note.
Their 2018 Rosé of Barbera was a study in contrasts, with the smooth mouth feel of honey mead against a crisp cherry finish, and warming the tongue while cooling the cheeks. We loved the 2016 Carignane, sourced from 100+ year-old Lodi vines. We learned from Jiliane that this wine spent time aging in the enormous barrels that face the winery entrance. Whatever the reason, we adored the result!
Their 2015 Ancient Vines, a blend of Mourvedre, Carignane, and Zinfandel (in equal measure) was another favorite, with raspberry, cherry and coffee notes that amazed us. This wine would pair well with a family meal of steak and roasted veggies. The 2016 "The Comet" is their other blend, combining 50% Zinfandel, 40% Petite Sirah, and 10% Carignane. The rich, earthy fruit notes and surprising zip of spice at the end made this an endearing wine for all of us.
Jiliane finished our flight with a fun "compare and contrast" tasting of two Zins. She described the 2017 Zinfandel as "unique" and we agreed. Sourced from a biodynamic vineyard in Mendocino, we adored the dark cherry, plum, and blueberry notes in perfect balance with gentle tannins and spice not normally found in a Zinfandel. Their 2016 Zinfandel, from the Todd Brothers Ranch in Alexander Valley, was a much more mainstream Zin, with delicious Bing cherry, chocolate, and blackberry flavors. The balance of tannins and acids should allow this great drinking wine survive the cellar for many years to come.
After some difficult deliberations, we selected our wine purchases, thanked Jiliane, and set off into the warm Alameda sunshine. What a great way to spend an afternoon!
Click Here for original article