Dashe Cellars & Zinfandel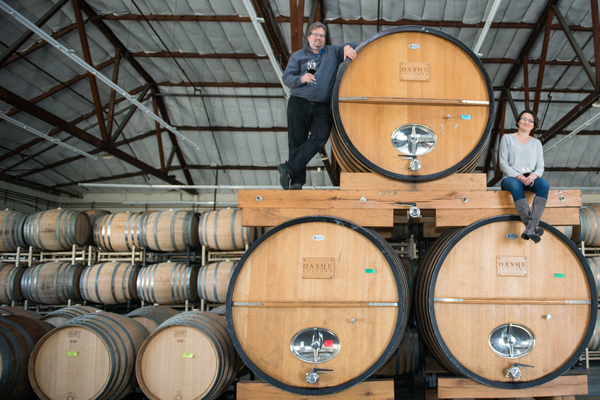 INTERVIEW WITH MIKE AND ANNE DASHE

You started Dashe Cellars the first year that you were married over twenty years ago. As a cooperative team, how do you work hand-in-hand in the cellar to create Dashe wines?
We each have a background both in the cellar and in winemaking, and we wanted to use the knowledge that both of us brought in to create really interesting wines. In the beginning, we started by working hand-in-hand in production and by making all of the decisions together. As the winery evolved and got bigger, we each started concentrating on different areas, but we still always make blending decisions together. For us, blending is the one of the most important part because we are able to create complex, balanced wine. We also work closely with our Winemaker Rene Calderon to ensure that we all work together to achieve the same goals.
How would you best describe your styles of winemaking?
We both have described our winemaking style as non-interventionist as possible in order to showcase the terroir of the vineyards that we source from. We do not make any additions to the wine and fermentation starts with only the native yeast that exists on the grapes when they come in from the vineyard. We use this minimalist approach to create wines that are more complex than would be possible using standard manipulations in the cellars.
What wines stand out in your memory as the most influential to your work?
The wines that have really spoken to us are the wines that best showcase the individual terroir of the vineyard and of the vintage harvest. Some of the wineries that we have worked for, like Ridge Vineyards, Chateau La Dominique and Château Lafite, each make truly intriguing and inspirational wines that made us want to make the most interesting wines possible.
Which harvest has been the most memorable and why?
Early vintage 1999 and 2001 were incredible vintages and really helped us see the possibilities of the vineyards that we were working with and showed us how great these wines could be. We also had a string of really fantastic vintages in the 2000's. All in all, we've been lucky to have a number of great vintages under our belts.
What do you do when you aren't working?
We love to travel. We spend our time outside of the winery traveling, spending time with our family, hiking in nature.
The first wine that you made as husband and wife under the Dashe Cellars name was a 1996 Zinfandel from the Dry Creek Valley. What made you decide to make this varietal your specialty?
We were amazed at the wide range of types of wines that you could make with zinfandel. We saw that Zinfandel was a world class varietal that you could make in many different styles and we loved the Dry Creek Valley AVA in particular because of the great balance and complexity of the wines. Mike had worked with Zinfandel from Dry Creek Valley extensively during his time at Ridge Vineyards and really felt that this area produced the highest quality zinfandel in California.
The interest in Zinfandel seems to be growing. Why do you think that is?
There has been a resurgence of Zinfandel that is made in a less ripe, less extracted manner and more balanced and complex. There especially seems to be a crop of young, new winemakers that seems to have sparked a renewed interest in the varietal. As Winemakers that were part of the original modern Zinfandel movement, we are thrilled to see growing interest in this varietal.
What do you wish other people knew about Zinfandel?
We would like for more wine lovers to see that Zinfandel can really be a world class grape varietal and that it can stand alongside any noble grape varietal in the world. When Zin is made correctly, it can be exceedingly high in quality with layers of flavors, vastly interesting, age worthy, and overall a spectacular varietal that makes elegant wines. Also, Zinfandel in particular is a varietal that pairs well with an enormous variety of foods, from fine dining to backyard BBQs.
Dry Creek Valley AVA is famous for producing award-winning Zinfandels, what do you think makes this area specifically well suited to this varietal?
The terroir of Dry Creek Valley in general is perfectly suited for growing Zinfandel grapes. Specifically, the weather patterns in the valley. Dry Creek Valley gets quite hot during the day and cools down precipitously at night; there is a fog that comes in at night and in early morning that keeps the acidity intact in the grapes. The resulting wines have a great balance between the fruit flavors, the minerality and the crisp acidity.