Cabernet Franc, our brand-new 'Les Enfants Terrible' wild child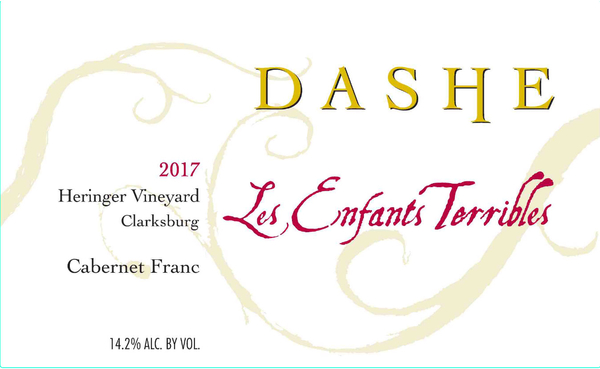 FINALLY HERE—IT'S CABERNET, IT'S BEAUTIFUL, AND IT'S FROM DASHE!
Yes, you heard that right: Dashe Cellars has released, for the first time, a mindboggling Cabernet Franc! Yes, it's the wine that our Tasting Room team has been hinting (and occasionally giggling) about, for months. 
Cabernet Franc that is! Yes, the wine that our Tasting Room team has been hinting about is finally here. Not only is it a house favorite, but it's our newest addition to our line of lighter reds, our 'Les Enfants Terribles' Wild Children. Made from grapes grown in Clarksburg on the Heringer Vineyard, this is the first Cabernet Franc we've created at Dashe. Made in a Loire Valley style, it shows fresh, vibrant fruit that is complex and mouthfilling. We love how this wine goes with a wide range of foods and is also ideal wine for sipping on its own. The unusual combination of flavors–cassis, blueberry, pomegranate and spice–make this one of the most compelling Dashe wines ever.
Click Here to buy the 2017 Cabernet Franc
Our Wine Club members have been enjoying our pairings for years, now that we are at home and cooking more we wanted to share Anne's perfectly picked pairings with our friends too.
GRILLED CHICKEN BREASTS WITH GREEN-OLIVE RELISH
By Tasha DeSerio Fine Cooking Issue 79
Makes 4 servings
This is the perfect fix for those nights when you want a deeply flavorful chicken breast, but don't have the luxury of time for a rub or marinade. This relish, with its combination of olives, almonds, capers, lemon zest, and herbs is so good, you'll skip the marinade more often.  
Ingredients
4 boneless, skinless chicken breast halves
About 3/4 cup extra-virgin olive oil
Kosher salt and freshly ground black pepper
1/2 lb. whole green olives (about 1-1/2 cups), such as Lucques or Picholine, rinsed, pitted, and coarsely chopped
1/4 cup blanched almonds, lightly toasted and roughly chopped
2 Tbs. capers, rinsed and coarsely chopped
2 Tbs. roughly chopped fresh flat-leaf parsley
2-1/2 tsp. finely grated lemon zest
1-1/2 tsp. chopped fresh thyme
1 small clove garlic, pounded to a paste with a pinch of salt
Preparation
Prepare a hot grill fire.
Put one chicken breast on one side of a large piece of plastic wrap. Drizzle about 1 tsp. oil on the breast and loosely fold half of the plastic wrap over the chicken. (There should be enough room to allow the chicken to expand when you pound it.) Using a meat mallet or a heavy sauté pan, pound the chicken so that it's about 1/2 inch thick. Discard the plastic wrap and repeat the process with the remaining breasts. Season the chicken with salt and pepper on both sides, and coat with 2 Tbs. of the oil. Let sit at room temperature while you prepare the other ingredients.
In a medium bowl, combine the olives, almonds, capers, parsley, lemon zest, thyme, garlic, and 1/2 cup of the oil.
Lay the chicken on the grill and cook, undisturbed, until it has grill marks, 2 to 3 min. Flip the chicken and continue to grill until it's cooked through, about 2 to 3 min. more. Transfer to a clean cutting board. Let rest for 2 to 3 min. Holding your knife at an angle, cut the chicken into 1/2-inch-thick slices and arrange them on a platter or on four dinner plates. Spoon the relish on top or to the side of the chicken and serve immediately.
Click Here to go to original recipe posting on www.finecooking.com