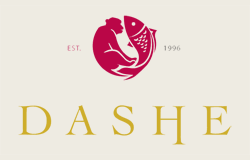 Notice anything different? We have a new logo!
There are several questions that we hear pretty regularly, "What does that black egg-shaped tank do?", "As an urban winery, do you also have urban vineyards?", and our favorite "What is the story behind the Monkey and the Fish?". If you've ever wondered where our logo came from, you are not alone!

The story behind our logo is a story of adventure, romance, and wine; so what better way to tell that story than with a monkey and a fish? Anne and Mike started Dashe Cellars the same year that they were married; in 1996. When they helped design the label, Anne said they were like "two creatures going on a journey."  The designer immediately jumped on the fact that Anne came from a fishing village in Brittany, and. Mike, being from Tarzana, CA, was a perfect monkey. Voila! A Monkey and Fish label was born. The rest is history. 

Now, after 22 years in business, we wanted to shake things up and update our logo a bit. We hope that you love our new representation of the Monkey and the Fish as much as we do!