"Les Enfants Terribles" The Beginning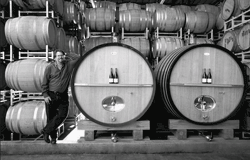 Vintners say low sulfur can result in purer flavors
Thank you to sommelier and friend of the winery, Mark Ellenbogen, for finding this SF Chronicle article from 2008 in the archives! 
If you would like to taste a wine from our "Les Enfants Terribles" line, Click Here to visit our online store and pick up a bottle!
VINTNERS SAY LOW SULFER CAN RESULT IN PURER FLAVORS
BY WOLFGANG WEBER
PHOTO BY CRAIG LEE/THE CHRONICLE
Contemporary attitudes toward the use of SO2 are changing, most notably in Europe, but also increasingly in the United States. Indeed, working with little to almost zero SO2 is one of the rallying points of the natural wine movement, a blanket term used to describe wines made according to a philosophy of minimal intervention in the vineyard and cellar.
In recent years in both France and Italy, winemakers such as Marcel Lapierre in Morgon and Stanislao Radikon in Friuli have pushed the envelope on SO2 use, simultaneously embracing a traditional approach — no additions of sulfur — while at the same time eagerly cultivating the market for such wines in Europe and the United States with a modernist fervor. As with organics and biodynamics before it, wine made without SO2 may be the next trend in the current green craze.
The interest in such wines has extended to California. Though a few organic vintners have long tried making unsulfured wines with little real success, a handful of more mainstream winemakers have begun experimenting with using as little sulfur as possible.
Dashe's daring experiment
Dashe, who makes wine out of a cavernous warehouse in Oakland, recently began his own sulfur dioxide experiment in a new Zinfandel he calls L'Enfant Terrible.
The genesis of this particular wine came about almost by accident while Dashe was visiting Guinness McFadden's organic farm in Potter Valley (Mendocino County) just before last year's harvest. McFadden grows mostly white grapes (including fruit for Dashe's Riesling), but Dashe noticed a small Zinfandel vineyard on a hillside. "It was a light-colored clone and reasonably cropped," he recalls. After tasting the grapes, which he found to be low in sugar for Zinfandel, he filed the vineyard away in his memory and headed back to Oakland.
The next day, Dashe spoke with Mark Ellenbogen, wine director at the Slanted Door in San Francisco. According to Dashe, the two had talked about what kind of California wines might complement the restaurant's food and work with Ellenbogen's Euro- and Riesling-centric list. Ellenbogen said any potential new wine needed to be made from grapes farmed organically or biodynamically, picked early, then processed in a way that avoided high fruit extraction or the heavy flavors of new oak. "We didn't really talk about sulfur, but that's certainly part of it," Ellenbogen says.
After their conversation, Dashe called McFadden and bought all 8 tons of Zin. The grapes were harvested relatively early at about 23.5 Brix, a measure of sugar.
Organic, check; early picked, check. So far, everything met Ellenbogen's qualifications. At this point, Dashe took the first of two gambles, and decided on native yeast fermentation. Then he took minimal intervention a step further and decided to back off on his sulfur additions. "I added SO2 at crushing to keep bacteria down, but that was it," he says. "It was so clean to begin with, so I didn't think the wine needed it."
That the wine was "clean" was an important factor in his decision. Dashe felt he could minimize his SO2 use because the wine was going into new, clean barrels. The wine's naturally high acidity offered a certain level of protection as well. "L'Enfant Terrible was the first wine that I had ever added SO2 once and never again," Dashe said later in an e-mail.
The result is an aromatic and fresh wine that clocks in at 13.8 percent alcohol — a relatively low percentage for any California wine, let alone typically high-octane Zinfandel. "The clarity and precision of flavor really expresses the site," says Ellenbogen, who ended up buying a sizable portion of L'Enfant Terrible's total production of 550 cases. The wine is currently featured by the glass at the Slanted Door. "We've already sold about 20 cases," Ellenbogen says.
Parr goes low sulfur
Styling a wine in the manner of L'Enfant Terrible could be catching on. Rajat Parr, wine director for the Mina Group, has made his own lowsulfur wine called Cuvee Anika.
Parr says the idea for Cuvee Anika came from the site-driven, minimally handled expression of Syrah that Thierry Allemand achieves in the Rhone appellation of Cornas. "I wanted to see if we could do something like that here."
Parr's first vintage of Cuvee Anika, which he made with Sashi Moorman of Stolpman and Piedrasassi, was in 2006. The wine is all Syrah, sourced from a vineyard near Cambria (San Luis Obispo County), one of the most marginal growing areas along the Central Coast. As a result, Parr says, the wine is high in acid and low in pH, with enough structure and tannin to keep it fresh. "It was fairly hearty wine," he recalls.
The numbers seemed to stack up in favor of making a wine with minimal handling or additives. Like Mike Dashe with L'Enfant Terrible, Parr and Moorman added a bit of sulfur when they crushed the grapes, but left it at that.
The duo took things further in 2007. One Syrah, made from the bio-dynamically farmed Purisima Mountain Vineyard in Santa Ynez Valley (Santa Barbara County), was harvested at 23.5 Brix. A small amount of SO2 — about 7 grams per ton of grapes — was added at the crusher, and then the grapes were left to undergo a wholecluster fermentation relying entirely on native yeasts.
Another Syrah, which Parr gleefully refers to as his flagship "wine geek wine," was sourced from the Rim Rock vineyard near Nipomo in Arroyo Grande ( San Luis Obispo County). With Brix levels of around 21 and a finished alcohol around 12 percent, Parr and Moorman added even less SO2 to the wine — 1 or 2 grams per ton. Both wines are fresh expressions of Syrah, with bright, vibrant fruit and mineral character. If anything, the Rim Rock feels more brisk, playing its pure expression off an inherent coolness.
Moorman says that although the two sites are completely different — Rim Rock is extremely cool, while Purisima Mountain is warmer but with high amounts of limestone in the soil — they both yield wines with high natural acidity, which eased concerns.
Parr is quick to acknowledge the risks involved with making a wine with little to no added SO2: Stability and oxidation become major factors. "The wines can mature much quicker," he points out. It seems, however, that a wine from a well-farmed vineyard handled correctly and attentively is stable enough to take the risk.
As Parr sees it, his goal isn't to make a non-sulfured wine, but rather a wine that shows purity and clarity: "Exuberance," Parr says. "The wine just shows more."
For Moorman, the greater satisfaction lies somewhere else. "It shows that you can pick grapes at low sugar."
A magic combination
Decisions to reduce sulfur use are complicated. Sometimes they're made not based on numbers but simply personal conviction and the desire to take a risk. Phillip Hart, who grows grapes at Ambyth Estate in Paso Robles (San Luis Obispo County), combines low sulfur use with such practices as biodynamics and dry farming. Hart cites Frey Vineyards, the Mendocino pioneer of unsulfured wine in California, as one of his main inspirations for making unsulfured wine.
"I really like Frey wine, and I love the fact that a lot of people say you can't do it," he says.
Hart, who grew up on a sheep farm in Wales, makes a Grenache blend at Ambyth. As an experiment, he used minimal amounts of SO2 for most of the wine (regulations by Demeter, the Biodynamic certification agency, allow up to 100 parts per million in SO2 additions), but reserved a portion of it to keep sulfur-free.
While he is pleased with both wines, the wine made without any sulfur addition tastes "even fresher, more pure." The only problem he reports between the two wines is that after bottling, the wine made without SO2 suffered from bottle shock, whereas the wine made with a sulfur addition did not.
That problem, however, eventually sorted itself out. As Hart explains it, one of the advantages of making wines without SO2 in the modern era is that wineries themselves are cleaner and much more sanitary than in the past.
Like Hart at Ambyth, Abe Schoener at the Scholium Project is another California winemaker with a strong desire to challenge his understanding of how wine is made and where additions like SO2 fit in to the bigger picture.
For the most part, Schoener makes his wines without any added SO2, save for a minuscule amount at bottling. Another technique he employs is to allow evaporation to occur during fermentation, with oxidation stopping on its own. In other words, he views oxygen both as a preservative and a component of his wine. Schoener, though, wouldn't be content to stop there. As if to hold a mirror to himself, he also makes a Verdelho with almost no exposure to oxygen. It's dosed with SO2 at the crusher, and then again every time the wine is racked or moved between tanks, in what is often called a reductive winemaking style. In contrast to maverick winemakers of northeastern Italy like Josko Gravner, whose wines also eschew sulfur, Schoener credits the inspiration for this method to the clean, crisp Gruner Veltliners from Austria — where such practices are highly common.
"I don't feel dogmatic about SO2," Schoener says. "In fact, I love it — it's so powerful, so predictable. It's a really friendly tool and I know what it's going to do."
Perhaps recognizing sulfur's versatility, and risks, is the key to understanding how best to apply it. That goes for both winemakers and the rest of us. Wolfgang Weber is a senior editor and Italian wine critic at Wine & Spirits magazine. E-mail comments to wine@sfchronicle.com.