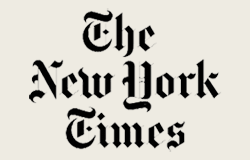 your next lesson: California Grenache
What an honor to be written up in the New York Times! Thank you to Eric Asimov, for recommending our 2016 Grenache in his recent article focusing on California Grenache. If you would like to taste this wine as well, Click Here to visit our online store and pick up a bottle!
BY ERIC ASIMOV
From amontillado we go to a much more contemporary sort of wine, grenache from California.
Also known as garnacha in Spain, where the grape is thought to have originated, grenache has long been a part of the California equation. It was an essential component in old mixed black heritage vineyards, in which many different black grapes were planted and vinified all together.
Over the last 30 years, I've seen a few good examples of California grenache, but it's really been in the last decade or so that grenache has stepped out in California as an interesting wine with a great potential to evolve.
Grenache is grown around the world, including the southern Rhône Valley, where it appears (sometimes alone and sometimes in blends) in Châteauneuf-du-Pape and Gigondas. In Catalonia, grenache is the backbone of Priorat and Montsant. The grape can be found in many other parts of Spain, in Sardinia and in Australia.
Grenache wines must walk a narrow path. The grapes thrive in hot, dry places. But if too hot, and the grapes get overripe, the wines can be sweet, hot and dispiriting. If grown carefully and vinified without solely power in mind, grenache can be spicy, herbal and complex.
Because of this balancing act, grenache is often blended with other grapes. They can add tannins, acidity and other characteristics that grenache lacks. But not always. Château Rayas, the great Châteauneuf that has become one of the world's most coveted wines, is made entirely of grenache.
The three wines I recommend are:
Dashe Dry Creek Valley Grenache Les Enfants Terribles 2016
Donkey & Goat California the Gallivanter 2016
Jolie-Laide Sonoma County Rossi Ranch Grenache-Syrah 2015
One of these, the Dashe, is pure grenache. The other two are blends.
As is often the case, these are small-production wines. But fear not. Other good examples come from Tablas Creek, Bonny Doon, Edmunds St. John, Ridge, Birichino, A Tribute to Grace, Skinner and Broc Cellars. Ask at a good wine shop for a California grenache or grenache blend, and you may find even more options.
I will confess, the wines we will be drinking are new to me, so I'm not yet sure what I would serve with them. I would instinctively lean to beef or pork stews and braises, and simpler meaty dishes like sausages and burgers. I probably would avoid dishes that are overly spicy or delicate.
Click Here for original article