June 17-19th | Anniversary Weekend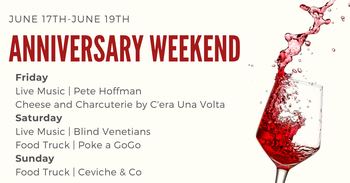 We're celebrating three years of glasses out on the Sf City Patio, pouring wine inside our historic airplane hangar, and making wine in Alameda. It's a weekend full of live music, fantastic food, and (you guessed it!) your favorite Dashe wines!
Enjoy our recently expanded SF City View Patio, where you'll have an amazing view of the San Francisco Bay complete with passing sailboats and the city skyline. Choose either a bottle to share, wines by the glass, or a flight of three Dashe wines. You'll want to come hungry, because we've also partnered with local Food Trucks for your dining pleasure. So support your local winery and your local food trucks too. Your reserved table will be all yours for 90 minutes and we'll have specials on wines to take home and for delivery to your friends too. We're looking forward to seeing you!
DATE: Friday, June 17th - Sunday, June 19th

FRIDAY NIGHT GOLDEN HOUR
MUSIC: Pete Hofmann
Pete Hofmann is a solo guitarist specializing in beautiful, romantic music. He taught music for 29 years in the Minneapolis Public Schools and now dedicates himself full time to performing solo guitar. Based in Minneapolis and constantly on the road all around the country, he does not sing, he lets his guitar sing. You will enjoy the beauty of the South American repertoire: music from Brazil, Venezuela, Argentina and Paraguay.The tunes are tangos, milongas, waltzes, and ballads. At times it's a bit like 1930's movie music, other times it's sexy and dreamy. It's emotional, at times it's bittersweet or sorrowful or wistful, other times it's joyful, and sometimes, like a breezy day at the race track. He comes around these parts from time to time and right now Pete invites you to order a round or two for you and your friend, sit back, and enjoy the music like you do your food and wine and conversation. Life is Beautiful.
FOOD: Cheese and Charcuterie by C'era Una Volta
SATURDAY
MUSIC: Blind Venetians
San Francisco's Favorite Cover Band *
Since 2004 Blind Venetians has provided an exciting mix of dance and party music for the SF Bay Area's enjoyment.  Hits from the '60s to current times will get your party moving.  
* According to our mothers
FOOD: Poke a Go Go
Poke a Go Go came to be when Dan and Juni Walsh realized that is was near impossible to find good Poke bowls anywhere in Marin County. We have always loved cooking and entertaining, so we decided to make it happen ourselves and started bringing fresh Poke bowls and other healthy meals to Marin and throughout the Bay area through Pop Up restaurants at breweries, wineries, and music festivals. Poke a Go Go has really evolved over the past year, and now we have expanded into catering and event planning, and we don't just serve Poke. We offer so many different types of menus. Our business has really taken off, and we pride ourselves on fresh, locally sourced foods, great customer service, and beautifully curated events.
SUNDAY
FOOD: Ceviche & Co.
Yes! You heard correctly! A ceviche food truck is coming to the Bay Area!
Ceviche & Co. will be serving the freshest, most delicious ceviche and tapas, varying in fusion styles know to the natives of Ecuador, a country containing portions of the Amazon Jungle, the geographical center of the world, unique fish and exotic fruits, and home to the Galapagos Islands. Our goal is to provide you with a variety of full flavored tapas and seafood delights bathed in citrus juices, accompanied by tropical aromas and spices. Mouthfuls of ceviche, empanadas, plantains, steak, and zesty sauces will only leave you wanting more of what delicious Ecuadorian cuisine has to offer.
COST: Reservation is Complimentary, wine & food available for purchase
Free admission - Kid Friendly - Dog Friendly