MAY 19TH | WINE CLUB HAPPY HOUR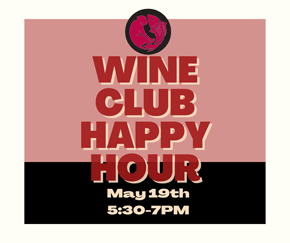 Wine Club Member Exclusive - SOLD OUT
Want to taste the wines in your Spring Allocation without opening a bottle? Join us at the winery for an evening tasting, we'll be taking over the Tasting Room and breaking out the cheeseboards in celebration of finally being about to see our friends again!
Make your reservations now, space is limited.
DATE: Thursday, May 19th
TIME: 5:30-7PM
COST: Complimentary, Reservations Required!
WINES POURED:
2019 Carignane, Evangelho Vineyard
2019 Zinfandel, Louvau Vineyard
2019 Zinfandel, Florence Vineyard
2020 Petite Sirah, Louvau Vineyard
2019 Zinfandel, West Vineyard*
2019 Zinfandel, Louvau Vineyard 'Block 2'*
*Wine Club Member Exclusive Wine

Not a Wine Club Member? Click Here for more information on membership or contact Stephanie at stephanie@dashecellars.com, (510) 452-1800