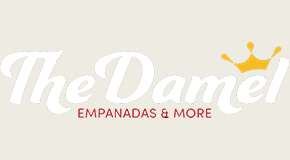 Chef Oumar offers Afro-Brazilian cuisine including 20 different kinds of Argentinian empanadas & Senegalese fataya, (halal meat, vegetarian & sweet), Brazilian acaraje, tapioca puffs & coxinha, Senegalese dibi lamb, chicken & fish & more!
Enjoy our recently expanded SF City View Patio, where you'll have an amazing view of the San Francisco Bay complete with passing sailboats and the city skyline. Choose either a bottle to share, wines by the glass, or a flight of three Dashe wines. You'll want to come hungry, because we've also partnered with local Food Trucks for your dining pleasure. So support your local winery and your local food trucks too. Your reserved table will be all yours for 90 minutes and we'll have specials on wines to take home and for delivery to your friends too. We're looking forward to seeing you!
DATE: Sunday, March 13th

FOOD: Chef Oumar Diouf's of The Damel empanadas and more
The establishment of The Damel is inspired by African and Brazilian cuisine. Our flavorsome dining experience embodies a wide range of West African culinary traditions that meet contemporary South American cuisine. This concept was developed by our founder after his 10 years of experience working for hotels and restaurants in Brazil, Argentina, and the United States. Our establishment aims to meet the demand for a dining experience that explores what the African and South American continents have to offer. We plan to bring this concept to different places in the world where food and beverages are considered to be strategic touristic markets.
Meet Chef Oumar Diouf
Chef Oumar has been working for over 10 years in the restaurant and catering business. He only uses the best local ingredients to create a fusion between traditional culinary and global cooking. In his journey after culinary school, Oumar has lead many different teams in several restaurants in Argentina, Brazil, and the United States. Those restaurants ranged from casual dining to luxury fine dining.
Diversity is what makes his his concept and cuisine stand out.
COST: Reservation is Complimentary, wine & food available for purchase
Free admission - Kid Friendly - Dog Friendly