February 11th | Sparkling Wine Release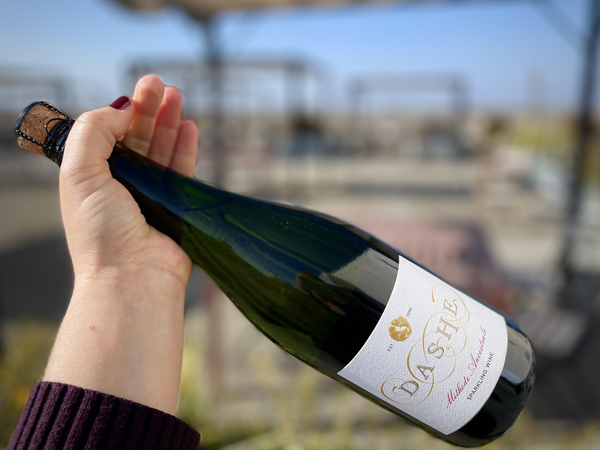 For this Friday Night Golden Hour we'll be poppin' corks at 4:00 sharp, start your weekend with a glass of our New Release, the 2017 Sparkling Wine, Methode Ancestrale!
Reserve your table for the Friday evening seating of our SF City View Patio. Enjoy the sunset and the view of the city skyline while toasting to the start of the weekend. Choose either a bottle to share, wines by the glass, or a flight of three Dashe wines. Pre-order your Cheese Board or Charcuterie Plate prepared by Little House Cafe in Alameda when you make your reservation. We'll have a limited number for purchase that evening as well.
DATE: Friday, February 11th

WINE: 2017 Sparkling Wine 'Methode Ancestrale'
Every once in a while, you must try something new, mix up your routine, and create something apart from the usual. In 2017, we did exactly that and four years later we are reaping the benefits! We held aside a portion of the Chenin Blanc grapes from the Heringer Vineyard in Clarksburg, California and decided to try our hand at a "Methode Ancestrale" sparkling wine, otherwise known as "PetNat". The difference in fermentation style is apparent in every layer of this wine. Long aging in the bottle alongside the native yeast contributes to its nutty, almost cider-like aromas and flavors. This also contributes to the tiny bubbles that dance across your tastebuds. A perfect wine for pairing with strong cheeses and nuts, this is a great wine for using as an aperitif. This is a one-of-a-kind wine that we predict will inspire you to take some chances of your own.
COST: Reservation is Complimentary, wine & food available for purchase
Free admission - Kid Friendly - Dog Friendly