February 12th | De La Calle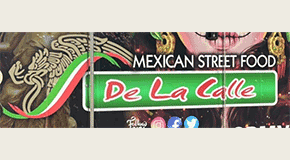 Inspired by the tacos of Mexico City, the fare from De La Calle will transport you there and back with one bite of the tender, juicy, smoky roast marinated pork topped with all the goodies! Pair it with a glass of The Comet Red Blend and you have a perfect afternoon.
Enjoy our recently expanded SF City View Patio, where you'll have an amazing view of the San Francisco Bay complete with passing sailboats and the city skyline. Choose either a bottle to share, wines by the glass, or a flight of three Dashe wines. You'll want to come hungry, because we've also partnered with local Food Trucks for your dining pleasure. So support your local winery and your local food trucks too. Your reserved table will be all yours for 90 minutes and we'll have specials on wines to take home and for delivery to your friends too. We're looking forward to seeing you!
DATE: Saturday,  February  12th


FOOD: De La Calle
The Tacos are the quintessential Mexico City street food!  They start with a filled corn tortilla, but the filling possibilities are endless. Tacos al pastor are easily the most famous street food pioneered in Mexico City.  They're filled with tender, juicy, smoky roast pork marinated and shaved fresh off of a giant spit, then topped with onions and cilantro!  Yum !!  Then, they're topped with salsa, vegetables, spices, and other garnishes.  serving hungry eaters near and far, we're continuously evolving our menu - always keeping our dishes fresh and unique.  Find us hitting the streets daily, where we're making sure that your food comes out quick and tastes delicious.  Whether you've got time to stick around or you're just coming to grab an on-the-go bite to eat, we got you covered.
COST: Reservation is Complimentary, wine & food available for purchase
Free admission - Kid Friendly - Dog Friendly