October 9th & 10th | Fleet Week!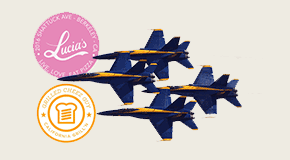 Join us on the SF City View Patio for the annual Fleet Week Airshow! We have the perfect view from the patio and there's sure to be that unmistakable Blue Angel rumbling off in the distance. The airshow is from 10am to 4pm and is headlined by The U.S. Navy Blue Angels & the only choreographed act featuring a 777 commercial airliner.
Enjoy our recently expanded SF City View Patio, where you'll have an amazing view of the San Francisco Bay complete with passing sailboats and the city skyline. Choose either a bottle to share, wines by the glass, or a flight of three Dashe wines. You'll want to come hungry, because we've also partnered with local Food Trucks for your dining pleasure. So support your local winery and your local food trucks too. Your reserved table will be all yours for 90 minutes and we'll have specials on wines to take home and for delivery to your friends too. We're looking forward to seeing you!
DATE: Saturday, October 9th & Sunday, October 10th
TIME: Limited seating from 11:30-5:45

SATURDAY'S FOOD: The Grilled Cheez Guy
The GrilledCheezGuy (or GCG) is a catering, pop-up, and SF secret sandwich shop founded in Oakland in 2009. We have focused on using our local farmers and cheese makers to make a 9X Nationally winning grilled cheese. We now have pop-ups all over the Bay Area, a full service catering menu, and our first SF restaurant! We take pride in taking care of our staff & our community.  We give back through donations and events!
SUNDAY'S FOOD: Lucia's Pizzeria
Berkeley's leading Brooklyn-style Neapolitan pizza restaurant Lucia's has been hard at work on its first mobile pizza oven. Designed by owners Alessandro Uccelli and Steve Dumain, the vintage truck (a three-wheeled 1981 Ape Piaggio, to be exact) was reconstructed and built in Italy, then remodeled to host a custom brick wood-fired oven that reaches 900 degrees. 
COST: Reservation is Complimentary, wine & food available for purchase
Free admission - Kid Friendly - Dog Friendly