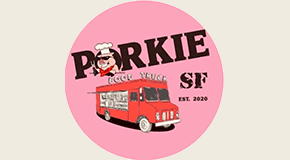 20 years of experience in the SF restaurant industry, and the people of Porkies have created unique and delicious Sandwiches, Burgers, Burritos, Salads... Everything that you could want to pair with a glass of Dashe wine!
Enjoy our recently expanded SF City View Patio, where you'll have an amazing view of the San Francisco Bay complete with passing sailboats and the city skyline. Choose either a bottle to share, wines by the glass, or a flight of three Dashe wines. You'll want to come hungry, because we've also partnered with local Food Trucks for your dining pleasure. So support your local winery and your local food trucks too. Your reserved table will be all yours for 90 minutes and we'll have specials on wines to take home and for delivery to your friends too. We're looking forward to seeing you!
DATE: Sunday, June 20th
TIME: Limited seating from 12:00-4:00, Reservations Required

FOOD: Porkies Food Truck
 Porkie Food Truck was born from the dream of hard-working men. With  more than 20 years of experience cooking in the finest restaurants, our chefs are excited to present their vision to you in a truck. Yes, that's how our dream started. Porkie has created everything from delicious burgers to exquisite desserts. From the moment you arrive, we work to ensure that you have that memorable experience, believe me your mouth will water.
COST: Reservation is Complimentary, wine & food available for purchase
Free admission - Kid Friendly - Dog Friendly