Valentine's Day with friends!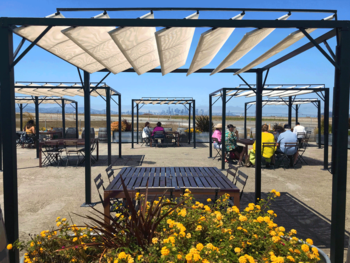 This Valentine's Day, celebrate the reopening of outdoor dining with your friends (and more than friends) for an afternoon of Dashe Wines, Italian homestyle cooking, and the best views in the bay area!
Enjoy our recently expanded SF City View Patio, where you'll have an amazing view of the San Francisco Bay complete with passing sailboats and the city skyline. Choose either a bottle to share, wines by the glass, or a flight of three Dashe wines. And don't forget to order your mouthwatering gourmet Romana pizza, pasta, or risotto created by Chef Rudy Fanetti-Duran in advance. C'era Una Volta has created a special Valentine's Day menu for the occasion! Scroll down for the full menu. They will be located at Bladium on your way in, you'll need to stop and pick up your food on your way to the winery.
Your reserved table will be all yours for 90 minutes and we'll have specials on wines to take home and for delivery to your friends too. We're looking forward to seeing you! 

---
C'era Una Volta
Valentine's Menu – Available Saturday, February 13 & Sunday, February 14
Click Here to order from the Valentine's Menu
Orto Salad Single $9; organic greens, tomato, cucumber, carrots & olives
Orto Salad for Two $16

Pizza Gourmet #1, Margherita Burrata with Organic Tomato &  Oregano Sauce
toppings: Burrata Mozzarella, Fresh Basil
Half or Whole  $10/$16.50

Pizza Gourmet #2, Del Bosco with Mascarpone Gorgonzola Sauce
toppings: Mozzarella, Spinach, Walnuts
Half or Whole  $10/$16.50

Pizza Gourmet #3, Salsiccia with Organic Tomato &  Oregano Sauce
toppings: Mozzarella, house made Italian Sausage, Brocolli Rabe
Half or Whole  $10/$18.50

~~~
Ravioli d'Aragosta; Lobster Ravioli and Cream Sauce with Walnuts & Shrimp
$17.50

Risotto con Zucca; Carnaroli rice sautéed with Squash, Onion, Celery & Sage
Finished with grated parmesan & black pepper
vegan option on request 
$16.50

Gnocchi ai Tartufo; Truffle filled gnocchi with Porcini mushroom cream sauce
Finished with grated parmesan & black pepper
$17.50

~~~
Terrine di Pesce; Roasted Salmon, Scallops and Shrimp with white wine & herbs
 - assorted roasted vegetables
$22.50

Fillet Mignon al Pepe Verde; prepared medium-rare with a green peppercorn cream sauce
 - assorted roasted vegetables
$23.50

Portobello & Lenticchie; Roasted Portobello cap stuffed with garlic sautéed spinach, lentils, cashews and onion & finished with black pepper
- assorted roasted vegetables
$19.50

~~~
Dolci – Desserts $6.50
Coccolamole; Vegan coconut-milk Panna Cotta & Berries
Tiramisù Fantasia; Mascarpone creamy filling with Savoiardi biscuits & orange slices