Gerard's Paella on the Patio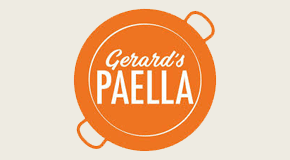 Love our Annual Paella Fiesta? Now is your chance to have paella on the patio! 
We've started planning our annual Paella Fiesta for November 14th (fingers crossed that we'll be able to host this year!), but why wait? Gerard Nebesky will be bringing his famous paella and big pans down from Sebastopol to serve up paella on our newly-revamped SF City View Patio on Saturday, August 29th. 
DATE: Saturday, August 29th
TIME: Limited seating from 11:30-5:45, reservations required

FOOD: Master Chef Gerard Nebesky's Giant Pans of Delicious Paella
A longtime chef and restaurant owner, Gerard Nebesky's culinary career began when he was just 23 years old. Looking to open a graphic design business in Grass Valley, he ended up instead opening a restaurant. The Bohemian Cafe in Occidental, opened by Gerard at that young age, was a hugely popular and beloved restaurant during its time in Occidental. People still remember the amazing atmosphere, and of course, they all remember Gerard. Always an adventurer, Gerard was profoundly influenced when he was introduced to the joys of classic Spanish Paella while skiing in Spain. Once he mastered the art of cooking this dish to perfection, he founded Gerard's Paella and took his passion on the road, where he is always happy to introduce others to Spain's most famous dish. His talents have been rewarded many times, most notably when he won Bobby Flay's challenge to a paella Throwdown on the Food Network Show, Throwdown with Bobby Flay. Read more about that exciting yet nerve wracking day here. Gerard's company, based in Sonoma County, California, has grown into a thriving and successful business, with a great team who always make sure your event is exactly as Gerard wants it; fun, festive, delicious and memorable. While Gerard still cooks and is available for events, he has a dedicated team of chefs, including some family and friends, who he personally trained to make sure your event is perfect.
COST: Reservation is Complimentary, wine & food available for purchase
Free admission - Kid Friendly - Dog Friendly