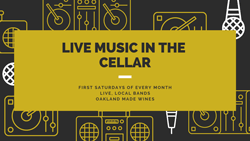 Join us the first Saturday of every month for wines by the glass and live music by local artists.
DATE: Saturday, March 2nd
TIME:
Winery open 12-6:00PM
Live music 2-5PM
COST: Admission is Complimentary, wine available for purchase
MUSICIAN: CrossBourne
CrossBourne is the duo compromising singer/songwriter Greg "Cross" and guitarist Russell "Bourne". While members of the "Butter Band" in 2008, Greg and Russ shared a love for rock & blues and began jamming on the patio at the local pub playing their favorite songs. In 2012 they decided to form a duo and perform their brand of rock & blues to the masses. Performing as a duo, trio and quartet they have quickly become local favorites throughout the San Francisco Bay Area!
Free admission - Kid Friendly - Dog Friendly