Dine & Dashe - Welcome 2019!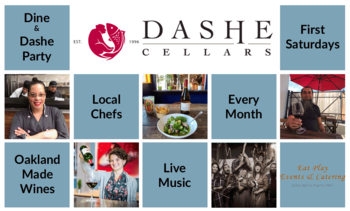 Dine & Dashe
Join us the first Saturday of every month for wines by the glass and live music by local artists and a restaurant pop-up featuring local chefs.
DATE: Saturday, January 5th
TIME:
Winery open 12-6:00PM
Chefs menu available 2-5PM
Live music 2-5PM
COST: Admission is Complimentary, food and wine available for purchase
MUSICIAN: Eric Eckstein
---
Eric Eckstein is a local bay area musician with a unique style of guitar playing. As a "finger picker" Eric is able to cover a wide range of musical styles from contemporary to classic. His repertoire includes blues and folk music, classic rock, Jazz standards as well as songs from today's contemporary artists
---
CHEF: Chef Aaronette
Welcome 2019 Menu
Each plate gets 2 tacos and Spanish Rice
Chicken Mole
Veggie Mole
Roasted Jalapenos, Crema, & Queso Fresco
Finish lunch off with delicious Lemon Bars
Free admission - Kid Friendly - Dog Friendly 
No Outside Food or Drink please
Local Chefs provided by Eat Play Events and Catering
www.eatplayeventsandcatering.com
Anyone can build you a menu and bill you an invoice. We have over 25 years in this crazy business and we know how to maximize your budget without sacrificing the integrity of the event. We are event and catering specialist, your event will always be #EPEC with Eat Play Events & Catering.