Dine & Dashe - Popping Bottles, Sparkling Wine Party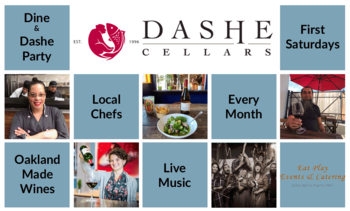 Dine & Dashe — Popping Bottles, Sparkling Wine Party!
The 2016 vintage marks Dashe Cellars' 20th anniversary and we're celebrating with bubbles! We're releasing an elegant sparkling wine made from Chenin Blanc grapes: we harvested the grapes at night, fermented cold, and aged in bottle on the yeast for 20 months. The complex aromas of toast, minerals, and stone fruit—along with the tiny bubbles—were our reward. This wine deserves a party!
Join us the first Saturday of every month for wines by the glass, live music by local artists, and a restaurant pop-up featuring local chefs.
DATE: Saturday, November 3rd
TIME:
Winery open 12-6:00PM
Chefs menu available 2-5PM
Live music 2-5PM
COST: Admission is Complimentary, food and wine available for purchase
MUSICIAN: Back by popular demand — Trace Repeat
Trace Repeat is a soul and funk band from Oakland, CA. They bring back that old school funk, with music inspired by their musical forefathers: James Brown, Michael Jackson, and Prince. Get down on it!
Click Here to listen to their music
CHEF: Chef Aaronette
Celebrating Bubbles Menu:
Shrimp & Scallop Ceviche
Roasted Chicken with Grapefruit Glaze served over organic mixed greens or veggie potato hash
Lemon Bars
Free admission - Kid Friendly - Dog Friendly 
No Outside Food or Drink please
Local Chefs provided by Eat Play Events and Catering
www.eatplayeventsandcatering.com
Anyone can build you a menu and bill you an invoice. We have over 25 years in this crazy business and we know how to maximize your budget without sacrificing the integrity of the event. We are event and catering specialist, your event will always be #EPEC with Eat Play Events & Catering.