Dine & Dashe - Harvest Kickoff! September 1st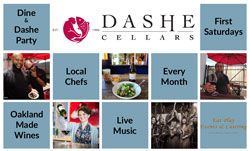 Dine & Dashe – Harvest Kickoff!
Join us the first Saturday of every month for wines by the glass, live music by local artists, and a restaurant pop-up featuring local chefs.
DATE: Saturday, September 1st
TIME:
Winery open 12-6:00PM
Chefs menu available 2-5PM
Live music 3-5PM
COST: Admission is Complimentary, food and wine available for purchase
MUSICIAN: The Hiwatters
The Hiwatters are a San Francisco Bay Area Classic Surf Music Ensemble. Formed during the stormy winter of 2006 under harsh conditions, The Hiwatters exude the power and majesty of the ocean's roar. Vintage surf guitar classics peppered with modern driving rhythms. Drenched in reverb and high on style, the Hiwatters are keeping the swing of classic surf music alive in the San Francisco Bay Area and beyond.
Check them out:
Free admission - Kid Friendly - Dog Friendly 
No Outside Food or Drink please
Local Chefs provided by Eat Play Events and Catering
www.eatplayeventsandcatering.com
Anyone can build you a menu and bill you an invoice. We have over 25 years in this crazy business and we know how to maximize your budget without sacrificing the integrity of the event. We are event and catering specialist, your event will always be #EPEC with Eat Play Events & Catering.