Michelle Lambert live in the Cellar! - Saturday, March 3rd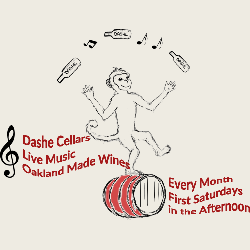 Dashe Cellars is happy to feature live music in the Cellar, every first Saturday of the month!
Michelle Lambert
""Michelle Lambert is a San Francisco based artist who has been pursuing her dream throughout the country and making headlines as she goes. She performs vocals and violin with her partner and guitarist Robbie. The two met in 2015 in Nashville, TN and have been playing hundreds of shows since then. Their original style is a combination of Amy Winehouse, Adele, Ed Sheeran and The Red Hot Chili Peppers. Her single Warrior has nearly ½ million views on YouTube. Her soon to be released single, My California talks about the journey of her life and love for her home state.

Michelle is rising quickly in the world of music. Her act is unique with Robbie bringing driving rhythms on acoustic guitar that moves your feet and Michelle's strong, soulful vocals and attitude filled violin licks. Do not miss this show! You will leave feeling your soul fed with the passionate performance."
Check them out:
www.michellelambert.com
DATE: Saturday, March 3rd
TIME: 3-5:00PM
COST: Complimentary
Free admission - Kid Friendly - Dog Friendly