San Francisco Bay Cruise, June 25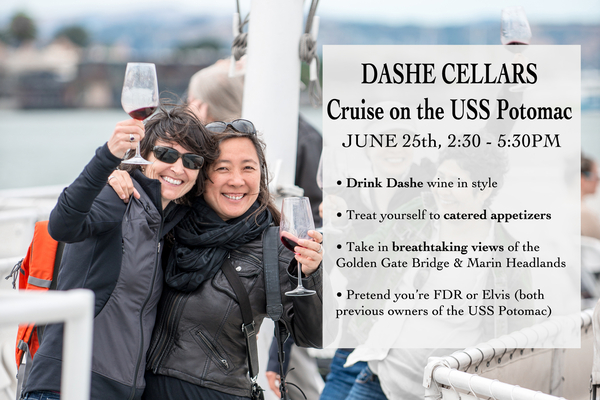 Annual San Francisco Bay Cruise 
This is one presidential party you won't be sick of hearing about! It's Dashe's annual cruise on the USS Potomac, a luxury yacht once owned by Franklin Delano Roosevelt and Elvis, alike.
Join us on Saturday, June 25th for an afternoon sipping on wine and dining while we sail the high seas of the Bay.
DETAILS
2:15pm Meet at the dock at Jack London Square (510 Water Street). Parking is located at the Washington Street Garage between 2nd and Embarcadero Streets, one block from the Potomac.
2:30pm Set sail with glass in hand around the San Francisco Bay while taking in the breathtaking views of the cityscape, Marin Headlands, and Golden Gate Bridge.
5:30pm Return to Jack London Square and disembark. 
Tickets available for purchase here.