Fleet Week Flyovers October 7-9th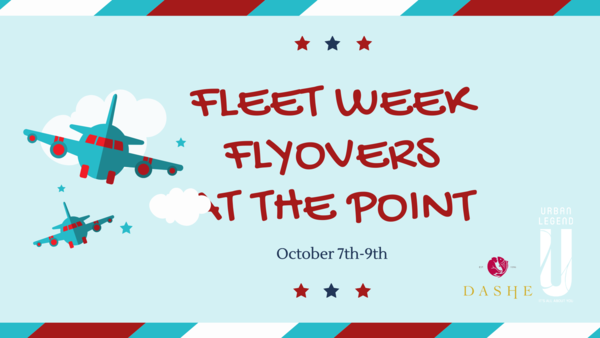 Reserve your spot for the Fleet Week celebration with Dashe Cellars and Urban Legend

If you've been to our Spirits Alley location, then you've witnessed our amazing view firsthand. Standing at our joint outdoor winery patio, you can see 180 degree views of the San Francisco skyline and bay with both bridges in the background. It's the perfect venue to enjoy the Fleet Week Airshow! Reservations are recommended as we have limited space available - reservations are for 90 minute slots. We'll be offering glass and bottle service on the patio and the hangar is open for reserved wine tasting. Oh and food, delicious food too; there will be a pizza truck here both Saturday & Sunday cooking up some tasty treats. 
DATE: Friday, Saturday, & Sunday, October 7th-9th
TIME: 
Friday: 12:00pm-5:15pm
Saturday: 11:30am-5:45pm
Sunday: 12:00pm-5:00pm
FOOD: 
Friday: C'era Una Volta with Charcuterie & Cheese Boards 
Saturday & Sunday:
We welcome
Pizette Geraldine
COST: Food and Wine available for purchase
Advance Reservation Suggested | Family & Fido Friendly on the Patio | No Outside Food/Alcoholic Beverages Allowed