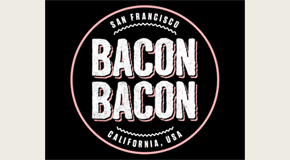 Bacon Bouquets, Burgers, and Burritos, oh my! This food truck takes all things bacon to a new level.
Enjoy our recently expanded SF City View Patio, where you'll have an amazing view of the San Francisco Bay complete with passing sailboats and the city skyline. Choose either a bottle to share, wines by the glass, or a flight of three Dashe wines. You'll want to come hungry, because we've also partnered with local Food Trucks for your dining pleasure. So support your local winery and your local food trucks too. Your reserved table will be all yours for 90 minutes and we'll have specials on wines to take home and for delivery to your friends too. We're looking forward to seeing you!
DATE: Saturday, August 22nd
TIME: Limited seating from 11:30-5:30, Reservations Required

FOOD: Bacon Bacon
"Some food trucks have these crazy names, and you don't know what you're standing in line for," says Jim Angelus, who took the opposite approach with the launch of Bacon Bacon, the Bay Area's mobile source of bacon-based happiness. So successful was Angelus' rig, serving burgers, tacos and other street-food favorites made with Cali's Sunnyvalley Smoked Meats bacon, that he was able to expand into brick and mortar.
COST: Reservation is Complimentary, wine & food available for purchase
Free admission - Kid Friendly - Dog Friendly