Fall Fest - September 21st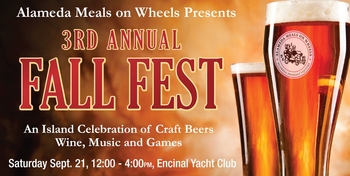 Find us pouring at the Fall Fest Meals on Wheels Fundraiser!

An Island Celebration of Craft Beers, Wine, Music and Games. This event will have something for everyone to enjoy. Featuring many of the Bay Area top craft breweries, terrific wines, delicious BBQ lunch and a mini music festival. If that's not enough, we will also have a cornhole tournament - you can test your skills to see who's got the best game out there.
Enjoy beautiful views of the Oakland Estuary while listening to 3 great local bands. If this sounds like fun for you plus your family and friends, then we invite you to attend. You won't be disappointed!