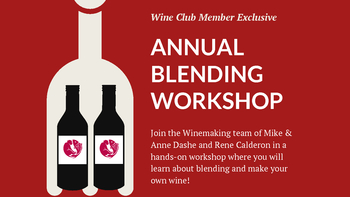 Wine Club Member Exclusive
Join Michael and Anne Dashe, as well as Winemaker René Calderon, as they teach you the art of blending and treat you to lunch! First, you will learn about the various components of wine and gain hands-on knowledge of oak-influence, aroma, taste, and balance. We will explore different component wines from recent vintages, and discover the intricacies of each varietal, vineyard block, barrel flavors, and how they blend together and build on each other. Then, the fun really begins! We will provide you with the base component wines and it will be up to you to make your own cuvée. After you have created—and named!—your own signature blend, you will be treated to a gourmet lunch in the cellar.
This is a hands-on workshop that is open to all skill-sets, the only requirement is a love of wine!
DATE: Saturday, March 7th
TIME: 10-2:00PM
COST: $80
LIMIT: 4 tickets per membership
SOLD OUT! To be added to the waitlist, email Stephanie at stephanie@dashecellars.com.
This workshop is very limited in space, make sure that you don't procrastinate because it always sells out!
Questions or special requests?
Email Stephanie at stephanie@dashecellars.com or call her at the winery, (510) 452-1800.
Not a Wine Club Member? Click Here for more information on membership.