Comedy in the Cellar - September 21st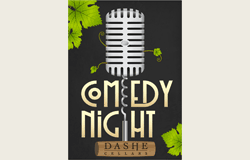 Mark your calendars for a night of fun and laughter! Join us for Live Music, Comedy, and your favorite Dashe wines.
DATE: Friday, September 21st - 5:30-9:30PM
TIME:
5:30PM-on: Featuring an Eat Play Events up and coming Oakland native, Chef Nikki will offer something for everyone, featuring:
Charcuterie Plate
Jambalaya over Rice
Fall Salad with Granny Smith Apples and Champagne Vinaigrette
6-8PM: Live music by Critters!
Featuring Sam Caine and Aaliyah Nitoto from genre-bending "bluevelvetgrass" string band Three Times Bad, this new spinoff group mines the rich history of the folk, bluegrass, blues, honkytonk, gospel, early jazz, and pre-"genre" Americana traditions. They bring a dynamic, contemporary approach to their wide-ranging repertoire of original and old-school tunes, channeling the communal music making of Carolina Chocolate Drops and the innovative/traditional song craft of Ben Hunter & Joe Seamons. In short, Critters aims to marry the way back with the way forward.
Click Here to Listen
8-10PM: Comedy Show! Check out our Comics' bios below.
COST: $30 for the public ($25 for Wine Club members)
Each ticket includes the concert, the comedy show and one glass of wine per person.
More wine and food for purchase onsite.
We hope to see you there!

Mark Pitta's career flourished in LA, first, fulfilling his dream of appearing on The Tonight Show with Johnny Carson then subsequent appearances with Jay Leno. Mark landed a job as host of Totally Hidden Video for the FOX network, playing different characters in hidden camera situations and then hosting Friday Night Videos for NBC. Mark has made guest appearances on Mad About You and Third Rock From the Sun.
For Comedy Central Mark has appeared on Premium Blend; The A-List; Dr. Katz; and Make Me Laugh.
Justin Lockwood's revealing stories and clever insights have made him a favorite of audiences around the Bay Area and beyond. His act spans from growing up on a marijuana farm to raising his own son to dating as a single parent. He's performed at the Burbank Comedy Festival, the Ventura Comedy Festival, is a San Francisco Funny Fest champion, and has been featured at Comedy Day in Golden Gate Park. You can see him regularly at clubs and venues including The Throckmorton Theatre, The Set Up, Comedy Oakland, The Punchline, The Improve, Rooster T. Feathers, Rock Wall Winery and others. In addition to standup he has written multiple plays and starred in dozens of theatrical productions.
Krista Fatka is an Oakland-based comic and writer. With over a decade of performance experience in circus and theater, she's as comfortable on stage as she is in a room full of clowns. Which is to say, pretty comfy. She produces a regular show at The San Francisco Punch Line called The Charm Offensive. She has performed at festivals in the Bay Area like SF Sketchfest, Outside Lands, and was a semi-finalist in the 2017 San Francisco International Comedy Competition. She won first place in The Sacramento Comedy Competition 2017.
Chelsea Bearce got her comedy start in Los Angeles and quickly headed to New York where she performed at over a dozen comedy clubs regularly including Gotham Comedy Club, New York Comedy Club, Broadway Comedy Club and Caroline's, where she performed along-side Darrell Hammond. She also studied at Upright Citizens Brigade in both their sketch program and improv program. Her blend of observational comedy and self-deprecation combined with her comfortability with talking to the audience and making them comfortable enough to make fun of themselves too, makes for a very enjoyable time had by all. Chelsea has written multiple parodies as well, including Curvy (which went viral) and is thrilled to be a part of this show!