WineBarre in the Garden - August 5th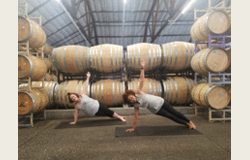 WineBarre: a fitness & wine pairing event!

Join us in the Dashe Cellars wine garden for a 45-minute barre class that blends cardio, strength training, flexibility, balance and core conditioning into a total body workout. Follow with a well-deserved glass of wine. This low impact workout promotes strong muscles and the wine is just delicious. All fitness levels are welcome. Bring a yoga mat**, water and friends!
DATE: August 5th 
TIME: 11:30AM
COST: $30 per person includes the barre workout and a glass of delicious Dashe Cellars wine
PRE-PURCHASED REGISTRATION IS REQUIRED Click Here for tickets
In the event that there are unregistered participants the price is $35 at the door
**The wine garden has a cement floor so bring extra padding in the form of a blanket or beach towel for extra padding as we may do some exercises while on the floor.

Class will be taught by Teresa R. Ellis owner of PB&J Fitness: Pilates Barre & Jams is a Pilates Instructor and ACE-Certified Personal Trainer.