Knife Fight Gauntlet: Summer Grill Mystery Box Edtion - July 21st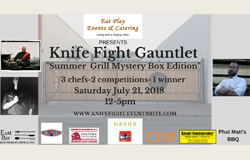 Dashe Cellars hosts 3 local chefs who will battle it out on the grill in the Wine Garden!
3 local chefs will battle it out on Dashe Cellars amazing patio in 2 competitions MC'd by Oakland's own Chef Tu David Phu and overall decided by YOU the guest. Oaktown Spice Shop-mystery spice, Dashe Cellars-mystery wine & Del Monte Meat Company-mystery protein each chef will need to use each of these to incorporate into their dish.
Up first will be Chef Larry Keck vs. Chef Lamont Perriman-Chef Larry has competed on Guy's Grocery Games and Chef Lamont is a private chef and local caterer here in Oakland. He also participated in Bringing it to the Table, a local black chef competition.
The winner of that round will move on to compete against Chef Ronny Miranda of Urban Alley and just recently on Beat Bobby Flay.
Tickets include tasting and judging for both chef competions and your first glass of wine.
DATE: July 28
TIME: 12-5pm
FIRST ROUND
12 pm - Introduction and revealing of Secret Spice, Protein & Wine
12:30 pm - Chef's get 45 mins to create and plate for 4 judges and 30 guests.
12:45 pm - Each guest gets a coin upon arrival to put into growler for Foodie Favorite, judges will judge with a chart.
1 pm - winner is announced and gets ready to face next chef.
SECOND ROUND
1:30 pm - Introduction and revealing of Secret Spice, Protein & Wine
2:00 pm - Chef's get 45 mins to create and plate for 4 judges and 30 guests.
2:45 pm - each guest gets a coin upon arrival to put into growler for Foodie Favorite, judges will judge with a chart.
3 pm - winner is announced and prize is awarded
COST: $40 Click Here for Tickets
MUSIC: Live music by the Mio Flores Timbalero Band
CHEF CONTESTANTS
Chef Larry Keck-very seasoned, competed on Guy's Grocery Games, Abalone Competition 
Chef Lamont Perriman-Private Chef, Caterer and Bringing it to the Table contestant 
Chef Ronny Miranda-Urban Alley-competed on Beat Bobby Flay
JUDGES
Chris Pastena-Calavera,Chop Bar, Lungomare
Abigail-Dashe Cellars
Oaktown Spice Shop
Nick Cattaneo-Jack London Square Events Manager
SPONSORS AND PARTNERS
East Bay Restaurant Supply
Oaktown Spice Shop
CUESA-waiting on confirmation
Phatt Matt's-Grills
Del Monte Meat
Cash & Carry
Kid Friendly - Dog Friendly - No Outside Food or Drink please