Oct 12-15 - Donation Drive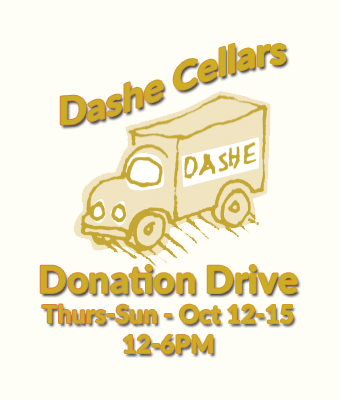 Our hearts are breaking for our friends, families, and winery compatriots who are dealing with this incredible tragedy. We ask our urban winery community to help us in collecting donations this weekend for delivery next week. Drop off donations at the winery Thursday, Oct 12th - Sunday, Oct 15th 12:00-6:00. While you're here, stay for a glass of our Dry Creek Zinfandel, 100% of proceeds for this wine by-the-glass will go directly to the Sonoma County Resilience Fund.
DONATION DROP-OFF
55 4th Street, Oakland, CA 94558
DATE: Thursday, Oct 12 - Sunday, Oct 15
TIME: 12-6:00PM
Items Needed:
N95 masks, New pillows, Air Mattresses, Blankets, Towels, Toiletries, Towels, Sleeping pads, Phone chargers, Flashlights, Batteries, Non-perishable Food, Diapers, Baby Formula, Pet Food
DRINK FOR A CAUSE
100% of proceeds for Dry Creek Zinfandel, by-the-glass during the drive will go to The Sonoma County Resilience Fund 
Sonoma County Resilience Fund
The Sonoma County Resilience Fund will address the mid to long-term needs of Sonoma County after the devastating fires that have struck out community.
As funders with over 30 years of experience in grantmaking in Sonoma County, we will rely on our thorough due diligence process to identify and vet organizations to receive funding. While we cannot yet predict what the greatest needs will be, in other communities recovery efforts have included basic needs as well as longer term economic, health and social supports. Examples have included support for renters, case management services, animal welfare and capacity-building for nonprofits taking on new or expanded roles in disaster relief.
Nonprofits themselves have been impacted by the fires and may need rebuilding help. There will be many nonprofits supporting fire victims directly. Our fund will not support individuals, but the nonprofits that are providing direct service.
Donations to the Resilience Fund will be used across our county and will be directed to the areas of greatest need.