Taste the Newest Releases!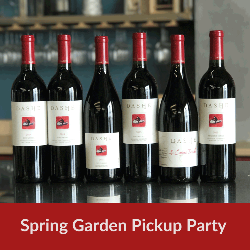 Spring Garden Pickup Party - SOLD OUT
Call or email Stephanie at (510) 452-1800, stephanie@dashecellars.com for ticket requests.
Member-Exclusive
Join us for an afternoon in the Wine Garden where the wine will be flowing, the chef will be frying (chicken and waffle bites!), and the band will be playing. Plus you'll be able to taste the wines in your allocation without opening a bottle.
DATE: Sunday, June 4, 2017
TIME: 12:00-3:00PM
ENTERTAINMENT: Wine Garden lawn games, music by the bay area's own bluegrass band 27 Strings... and did we mention wine?
FOOD: Southern-style Carnival-inspired small bite pairings by Straw Carnival Fare
Not a Wine Club Member? Click Here for more information on membership.