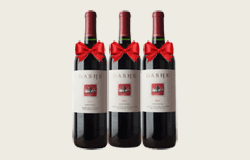 'Tis the season for holiday cheers! Clink your glasses together with one of your favorite Dashe wines. Mix and match a case online or in the tasting room and receive 10% off of 12-bottle case purchases and members receive an extra 5% off of 10-20% member pricing. Click Here to visit our online store, and don't forget to check out our holiday sets. We've created several to choose from, including our old-vine wines, gold medal winners, and more.
Events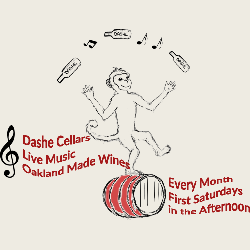 Dashe Cellars is happy to feature live music in the Cellar, every first Saturday of the month!
Trace Repeat
"Trace Repeat is a funk and soul band from Oakland, CA. They bring that old school funky from back in the day, and paying homage to funk's musical forefathers, James Brown, Michael Jackson, and Prince. Get down on it."
Check them out:
TraceRepeat.com
DATE: Saturday, January 6th
TIME: 2-5:00PM
COST: Complimentary
Free admission - Kid Friendly - Dog Friendly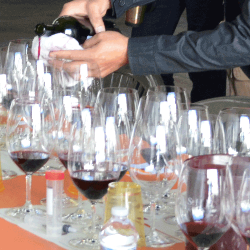 Wine Club Member Exclusive
DATE: Saturday, December 9, 2017
TIME: 6:30-8:30PM
COST: $35 per ticket
LIMIT: 4 tickets per membership - space is extremely limited
What are the holidays for if not sharing amazing wines with friends? We'll go far back into the cellar to find library vintages of your favorite Dashe wines, just you wait and see!

Questions or special requests?
Email Stephanie at stephanie@dashecellars.com or call her at the winery, (510)452-1800.
Not a Wine Club Member? Click Here for more information on membership.
Load More...
Archived Events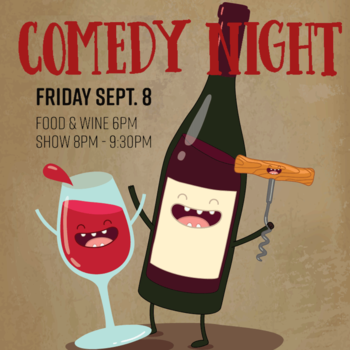 Mark your calendars for a night of fun and laughter!
Dashe Cellars will be introducing a brand new experience at the winery. Join us for Live Music, Comedy, and your favorite Dashe wines.
DATE: Friday, September 8th - 5:30-9:30PM
5.30-on: El Tonayense Food Truck and their delicious Tacos
6-8 pm: Eric Eckstein in the Cellar
8-9.30 pm: Comedy Show! Check out our Comics' bios below
COST: $30 for the public ($25 for Wine Club members)
Each ticket includes the concert, the comedy show and one glass of wine per person.
More wine and food for purchase onsite.
We hope to see you there!

Paco Romane has appeared on Comedy Central's Drunk History, wrote for The Gilbert Gottfried Roast is a frequent guest on The Todd Glass Show, was twice voted Best Comedian in San Francisco by the SF Weekly and SF Bay Guardian and appeared as Jerry Trainor's mom on Nickelodeon. He has also appeared in numerous films and national commercials (ADOBE, ARCO, IBM, XFINITY), and is a sought after voice-over actor (VISA, AMTRAK, XFINITY). Paco is big Golden State Warriors fan and recently appeared with NBA champions Klay Thompson and Harrison Barnes in an Adobe Ad. He has been profiled in NBC Bay Area, NPR "Forum", KQED, San Francisco Examiner, San Francisco Chronicle, SF Weekly, SF Guardian, Time Out SF, 7×7, San Francisco Magazine, Haight-Ashbury Beat, Spinning Platters, Hoodline and many others!
Nicole Calasich is a comedian and producer from SF who has literally never bombed.* Her jokes have been on Comedy Central, her face on ABC for Iliza's "Forever 31." Her humor is big words smartcool and her incisive audience rapport is the dumbest. You may have seen her open for the utterly fantastic Dan Cummins, Adam Newman, Ali Wong, or featuring for Iliza but she is most likely to be seen offering gifts to the great and powerful Xenu.
Drew Harmon is a standup comedian and former TV Weatherman in San Francisco. Drew began doing standup in the Midwest before moving to San Francisco, where he works at clubs like the Punch Line, Doc's Lab and more. Drew has also appeared as part of comedy festivals at SF Sketchfest, Gilda's Laughfest in Grand Rapids, Michigan and Laugh Your Asheville Off in North Carolina. Drew has also worked with Jimmy Pardo, The Nightly Show's Ricky Velez, Owen Benjamin and more.
Steve Ausburne's first attempt at actual stand up comedy ended with him getting a lifetime ban from a church in Grant's Pass, Oregon. Launched by that successful start, Steve now peddles his comedic wares throughout California's Bay Area in addition to producing a monthly showcase in Healdsburg - where wine country goes to hear poop jokes. Steve has performed in SF Sketchfest, competed in the San Francisco Comedy Competition, and is allergic to cats.
Richard Sarvate grew up in the Bay Area to parents of Indian immigrants. His last name sounds Mexican because it was butchered during an immigration debacle. He spent 10 years working as a programmer before deciding to throw off the shackles of corporate life. Now he spends his nights on stage poking fun at his previous career. His jokes range from an impression of a GPS for insecure men to deep and introspective subjects like his mother's schizophrenia. He's a regular host at the San Francisco Punch Line, been in SF Sketchfest, and he recently completed a 20 show tour of India.
Justin Lockwood's revealing stories and clever insights have made him a favorite of audiences around the Bay Area and beyond. His act spans from growing up on a marijuana farm to raising his own son to dating as a single parent. He's performed at the Burbank Comedy Festival, the Ventura Comedy Festival, is a San Francisco Funny Fest champion, and has been featured at Comedy Day in Golden Gate Park. You can see him regularly at clubs and venues including The Throckmorton Theatre, The Set Up, Comedy Oakland, The Punchline, The Improve, Rooster T. Feathers, Rock Wall Winery and others. In addition to standup he has written multiple plays and starred in dozens of theatrical productions.
Load More...