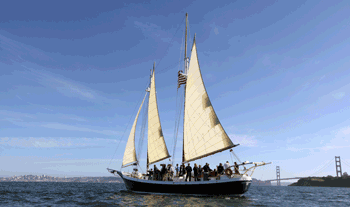 ONLY 3 TICKETS LEFT!
Join Mike and Anne Dashe for an afternoon of adventure and memory-making as we let the wind take us on a tour of San Francisco, enjoying the view from the deck of a classic schooner. We'll be pouring your favorite Dashe Wines as the crew aboard raises the sails and heads out into the bay for an on-board Parisian Picnic.
News & Events
Wonderful to meet you Jim and thank you for the write-up!
EXPLORING OAKLAND'S UNIQUE URBAN WINE TRAIL
BY JIM BYERS
We start at Dashe, which grows its grapes up north but does all the crushing and bottling at their location on Fourth St., just a few steps from the busy 880 Freeway. We try a lovely, dry Riesling and a wonderful Carignane red wine from 130-year-old vineyards. They also do a great Petite Sirah.
Clara Willard, the tasting room manager, tells us they only use French oak barrels for aging as they're trying for more of a light, European style of wine versus some of the heavy California varieties winemakers often favour.
"We get a lot of folks from Oakland, Berkeley and Alameda," she tells us. "They don't want to drive to go wine-tasting, so they like to come here and hang out with friends."
Load More...