---

Winery & Tasting Room
VISIT DASHE CELLARS IN ALAMEDA

First Day in Alameda is Saturday, May 18th.
We will be hosting a series of pop-ups on Saturdays and Sundays at our new location starting on May 18th while construction is completed. These will be moving throughout our new property while construction is completed and leading up to our Grand Opening.
For more information, call the winery at (510) 452-1800.
Open Saturdays and Sundays 12-6:00 p.m.
1951 Monarch St #300 Alameda, CA 94501
Finding us can be a bit of a challenge the first time. As you approach building 25 from Monarch St., our entrance is on the far right (or west) side of the building. Enter through our gate and proceed to back of the building. On the back of the building is an opening into the cellar, that's us! If your navigation app drops you at the gate next to the old tower building, just proceed though the gate and drive diagonally to the right. It can be tricky to find at first, but your visit will be well worth it!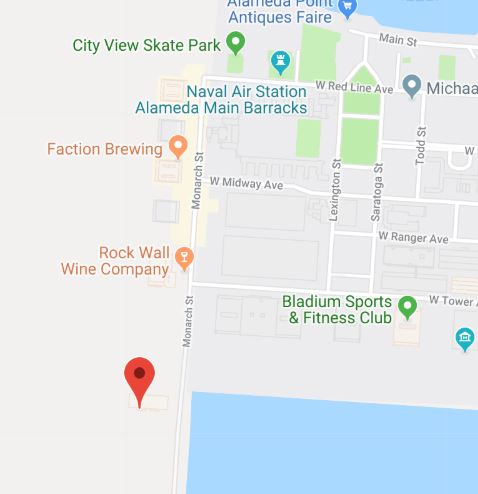 Grab some friends and join us for a flight of wines in our unique, urban tasting room. However you get here and whoever you come with, one thing is for certain: you'll try some world-class wines — without the long trip up to wine country — served by our knowledgeable and welcoming staff. Once you step inside our urban winery you'll be wrapped in the sweet smell of wine aging in barrels and be amazed by the rows of oak barrels and tanks that surround you. Whether this is your first or 50th wine tasting, we are committed to giving you a warm and informative experience in the heart of Urban Wine Country!
OPEN SATURDAY - SUNDAY, 12-6 p.m.

Exceptional Hours:
Groups of 7 and under
Tasting fee is $15/person
Tasting fee is waived with $35 purchase per taster
Groups of 8 or more
We welcome small groups at Dashe Cellars with prior reservation.
Tasting fee is $20/person
$10 is waived with $35 purchase per taster
Advance notice is required, please call 510.452.1800 (we may take same-day reservations if we can accommodate)
Timing: noon to 1:30 p.m. is ideal; we will most likely not be able to take groups larger than 8 after 3 p.m.
Expect to spend 60 minutes in the winery
LAST DAY IN OUR OAKLAND LOCATION WILL BE MAY 12TH