March 5th | Satay By The Bay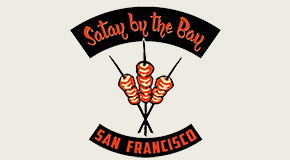 Classic Singaporean Hawker Fare is the name of the game for Satay By The Bay! From their traditional sticks of Satay to a western-style Satay Sandwich, and even Crab & Dutch Fries (just to name a few), you are bound to find something amazing on this menu. Pair with a Dry Creek Zinfandel, or even a glass of the Dry Riesling for a special treat!
Enjoy our recently expanded SF City View Patio, where you'll have an amazing view of the San Francisco Bay complete with passing sailboats and the city skyline. Choose either a bottle to share, wines by the glass, or a flight of three Dashe wines. You'll want to come hungry, because we've also partnered with local Food Trucks for your dining pleasure. So support your local winery and your local food trucks too. Your reserved table will be all yours for 90 minutes and we'll have specials on wines to take home and for delivery to your friends too. We're looking forward to seeing you!
DATE: Saturday, March 5th

FOOD: Satay By The Bay SF
Satay By The Bay SF is a catering/food truck business formed by Elly Suraya Greenfield and her husband David (aka DJ Sid Presley). Elly was born and raised in Singapore, where she assisted her mother in preparing traditional Singaporean Malay meals for parties and family gatherings (she has a very big family). Nothing is being reinvented here. It's pure old-world charm, just as you'd find in the best of Singapore's hawker centres, or in your traditional Singaporean Malay home.
Singapore-style SATAY is the main attraction. Choose beef or chicken. All of our meat is halal. Marinated overnight, then placed on bamboo skewers, and grilled fresh to order. Served with homemade peanut sauce whose recipe was handed down by Elly's grandmother. Served with cucumber and rice cake. Our Tahu Goreng is a Southeast Asian vegetarian delight. Fried tofu served with peanut sauce, cucumber, carrots, and sprouts.
COST: Reservation is Complimentary, wine & food available for purchase
Free admission - Kid Friendly - Dog Friendly