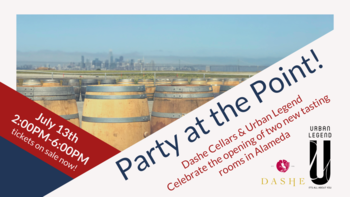 Celebrate the opening of the two newest winery additions to Alameda's Spirits Alley with Party at the Point with Dashe Cellars & Urban Legend.
General Admission Tickets are SOLD OUT! While we have reached capacity for the party, we would still love for you to join us for a glass of wine. Please don't hesitate to stop by between 2-6:00 on Saturday, we'll be selling glasses of wine in each Tasting Room.
Our new Tasting Rooms are almost ready! After a decade as colleagues on the Oakland Wine Trail, Dashe Cellars and Urban Legend are dancing cheek to cheek with next-door tasting rooms and a shared crush pad in a historic airplane hangar in Alameda's Spirits Alley. To celebrate the relocation of both wineries, we invite you to bring your friends for a day of wine, food, music, and revelry in one of the Bay Area's most beautiful settings.
Dashe Cellars
Our new Tasting Room is right in the middle of the winery, we carved out a portion of our barrel room within the cellar to make a beautiful new space, perfect for sipping wine. Every hour on the hour, we will host tours of the new facility giving a glimpse behind the scenes into the winemaking at Dashe Cellars and to give you a glimpse of our shared up-and-coming private event space in the Tank Room.
Urban Legend
We've kept the light and glass and added a fabulous vista with a wall-to-wall view of the Bay, a bird sanctuary, and the SF city skyline to share with you. Our new tasting room and wine studio is a great place to relax and explore the diversity of urban winemaking. We'll be offering tours of the production side on an informal basis and winemakers Steve and Marilee will be available for your questions.
Outside of both Tasting Rooms, the view of the San Francisco Bay will inspire you to grab a seat on the patio* and enjoy a glass while reveling in the sunshine.
*open during patio construction
DATE: Saturday, July 13th
TIME: 2-6:00PM
FOOD: Queen Maggie Pizza Co. with their wood fired mobile pizza oven
MUSICIAN: Major Minor
COST: $25 | $20 Wine Club
Tickets include admission, your first glass of wine, and pizza!

Advance Reservation Needed | Family & Fido Friendly